There are few things in life that beat a beautiful British countryside walk, through forests or across fields. Almost anytime of year is the right time and nature's splendour as it changes with seasons is a delight for all your senses.
Some ladies will plan for an afternoon in the forest, others simply throw on the old jogging bottoms and a T-shirt, but this can leave you a little undressed for a pub lunch or dinner by the river.
With Hartwell clothing, it's easy to dress for a walk without sacrificing style.
In this blog we look at some classic looks for walking.
Practicality
Of course you want to look great while out walking, you never know who you might bump into and this can lead to an impromptu drink, dinner, business meeting or new friendship, so looking good is very achievable, while the practical side is fully considered.
Everyone at Hartwell Clothing loves the British countryside, but it is known to rain now and then or without warning, lol.
The first essential is stout shoes or boots, both for comfort and protecting your feet. Then, depending on the season you need to think about keeping cool, warm or dry so your outfit and you arrive home in some kind of reasonable condition.
A waterproof or windproof jacket makes sense, but underneath you can be stylish and prepared for a sudden social occasion.
Try these 5 looks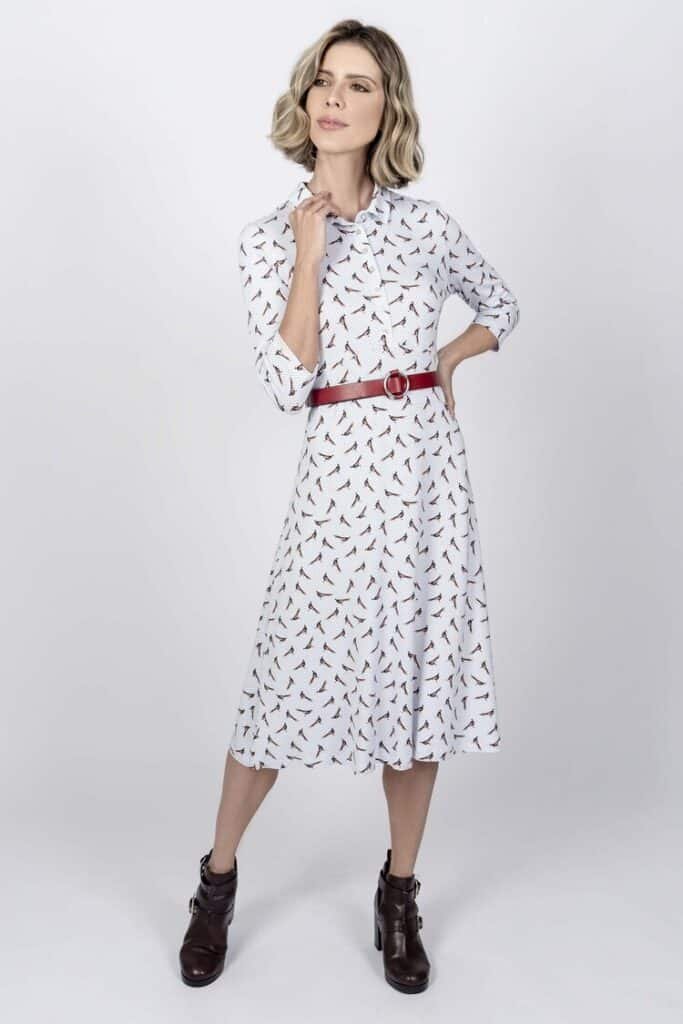 Legs
Let's start with the legs, now of course shorts are often a first choice for summer walks, but offer little protection against bugs and brambles. There is nothing in the book that says boots cannot be worn with a dress.
Hartwells Sophie polka dot pheasant print dress would be perfect for spring and summer walks, looks great with boots and a light waterproof jacket in the backpack can swiftly be donned in the event of a shower. Our Sophie black ditsy dress also looks great with boots and stunning in the pub.
Leggings are a superb choice and with the array of colours and styles available today they can be easily mixed and matched with a variety of other garments to deliver a riot of colour mixes or a toned done blended country look.
Leggings are also very practical for protection from all kinds of sharp plant life and if they are tucked in the boots, great for warding off the mozzies if you're by a lake or river in the evening.
Leggings are also hugely versatile as a spare pair in a different colour are easily slipped into the back pack to create a fresh look for an early dinner or impromptu village cafe and shopping stop.
Stay toasty
On a spring or winter walk, keeping warm is key and helps the muscles work better. But keeping warm need not require dull coloured outsized over garments and you can still be cosy and chic.
Layering is important and the role of the baselayer is moving sweat away from your skin. In winter it is a lot more crucial, as cooling sweat can quickly become very cold. If you are tramping up a forest trail on a chilly day, a good wicking baselayer will come into its own.
Most baselayers are made from synthetic materials designed to wick sweat efficiently and dry-quickly.
The top layer can then be colourful and stylish as long as it keeps you warm. Hartwells stunning horse chains printed sweatshirt is a great option.
Style
Lots of debate about cotton as a fabric among hardened walkers, and it is true that it's not the best material next to your skin for distributing sweat or insulating when you are on a full day's walk on challenging terrain.
However not all walks are 20km hikes across fields and dales. If you're planning a gentle forest or woodland walk to a riverside restaurant for lunch or a village countryside pub, then a unique ladies country shirt adds plenty of style and colour to your outfit.
A good quality ladies country shirt can be worn over your wicking layer, and remains fresh and comfortable despite some reasonable exertion. If you take a look at Hartwell Clothings stunning range, you can choose your favourite country theme or countryside animal and blend nicely into the environment.
Easily worn with shorts, leggings or jeans, a well fitted shirt will move with your body as you athletically negotiate creeks, stiles and muddy puddles.
Of course it's all about the walk, but why not make a fashion statement as well?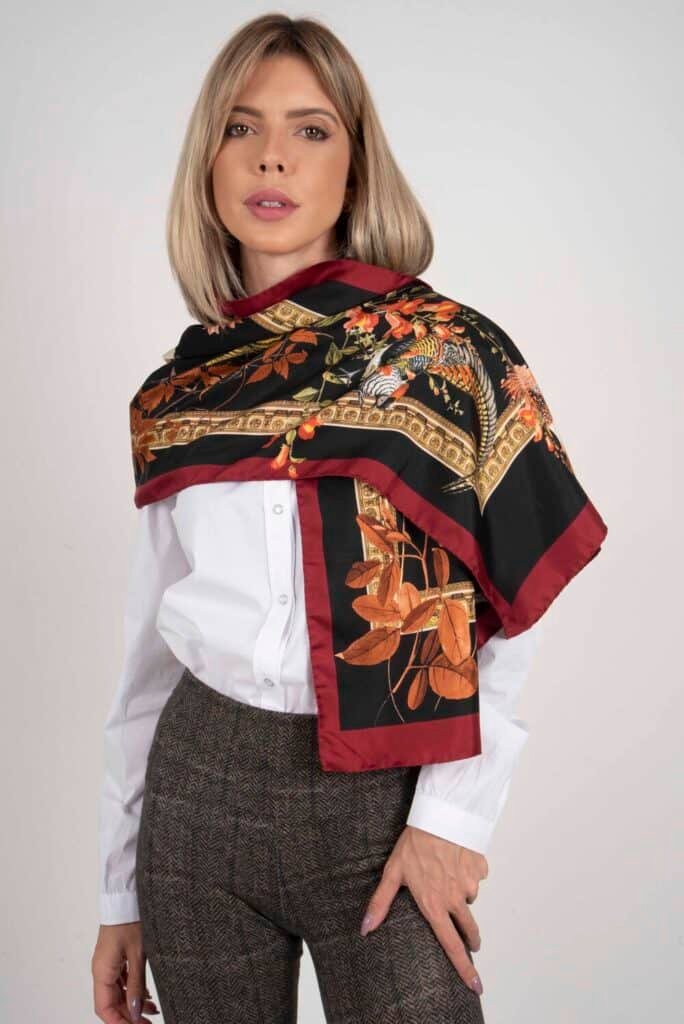 Accessories
Probably the easiest way to change your hiking outfit on a weekend away in the country, while retaining the functional aspect of what you're wearing.
A backpack of some size is the standard first accessory for keeping your essentials like food, bottle, camera, phone, etc. However they come in many shapes, colours and styles.
A large belt can not only help gather loose material but also change your outfits matching or mismatching secondary colour.
A ladies scarf is an almost perfect accessory that has many options. Try using it across the shoulders on a chilly evening. Protect your neck from wind chill, or simply worn in sash style for a wonderful splash of colour that delivers contrasting colours or matches the outfit.
Just be a little careful around brambles.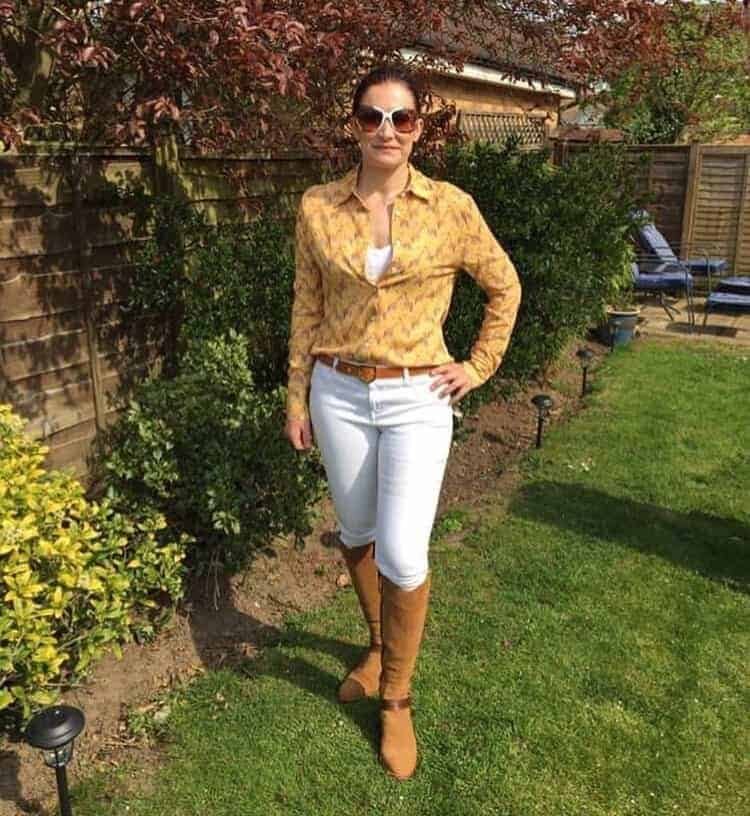 Final style tips
First and foremost your outfit should not cause a hindrance to your movement. The right pair of boots or shoes is also key. Go for sweat absorbing fabric in summers.
Now nobody wants to arrive either at your planned stop or home feeling rough and glowing like a lobster, so for summer walks do not forget your sunscreen.
Also ladies need to think about their flowing locks. If you are blessed with long hair, you should go for a ponytail or the incredibly trending, top bun hairstyle. Both work well for hiking and look great, so you feel great.
The Wrap
Of course, everyone feels confident wearing different things, and there's no standard hiking outfit that will make us feel great and hike like an olympian.
Some people opt for gym clothes as they feel they're easy to move in, but they can look a little standard.
Now we are not saying you should be aiming for the Rosie Huntington-Whiteley
vibe while wandering around in the wilderness, but a little style sees you arrive looking magnificent and of course, it's perfect for that hilltop or river view selfie.
Live Well, Dress well, Hartwell.