If you are looking for some inspiration to get started with this functional and fashionable accessory. The team at Hartwell Clothing is pleased to present our mini blog guide on five ways to wear a silk scarf.
As we already know ladies, a silk scarf is the perfect accessory for all seasons. Not only are there countless ways to wear silk scarves, you will never be limited in terms of print design or colours to create a look that is uniquely you and showcases your outfit and individual style.
A pure silk scarf like the Hartwell Clothing collection is a timeless addition to anyone's wardrobe and accessories rituals. The softness and feel of 100% natural material against your skin can also bring about some physical and psychological benefits as you feel comfortingly special.
Loving the silk
One of the beautiful qualities of a silk scarf, and one which makes it so versatile, is the soft composition of the all natural fabric . We all have our favourite ways to use a silk scarf, and we will list our top 5 but how many of you have ever thought of tying it around your head before you go to sleep so that it acts as a protective silk layer against the potential friction of a cotton pillow?
This neat tip not only preserves your hairstyle, but also protects your fine hairs from breakage, or splitting.
Not to mention how stylish and cool you'll look and feel when you wake up in the morning with a luxurious silk head wrap on and can greet guests or the postman without "bed hair".
Let's look at some stylish ways to pull off wearing silk scarves.
1: Silk bandeau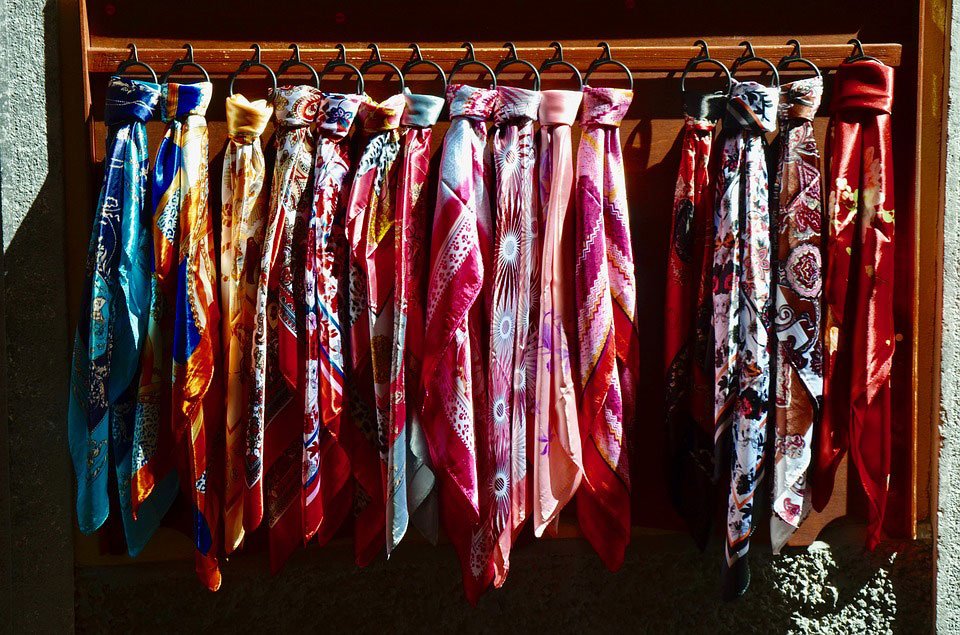 For many when they think of the benefits of a silk scarf, the mind tends to automatically think of the hair, but did you know that your skin can benefit as well?
Due to the unique molecular structure of the silk itself, which has been cultivated since the 4th century BC by the Chinese, the natural protein does not draw moisture away from the skin, allowing your skin to breathe, maintain moisture and stay hydrated.
If you are outdoors a lot and particularly suffer with dry skin, using your silk scarf as a bandeau can be a soothing touch against dry or irritated skin. Simply fold your silk scarf corner to corner, laying it flat against your chest with one corner pointing towards your lower abdomen. Then the artistic bit is to tie in a beautiful bow at the back.
This gorgeous silk top will be a uniquely breathable and beautiful addition to any summer wardrobe.
2: Belts & Bags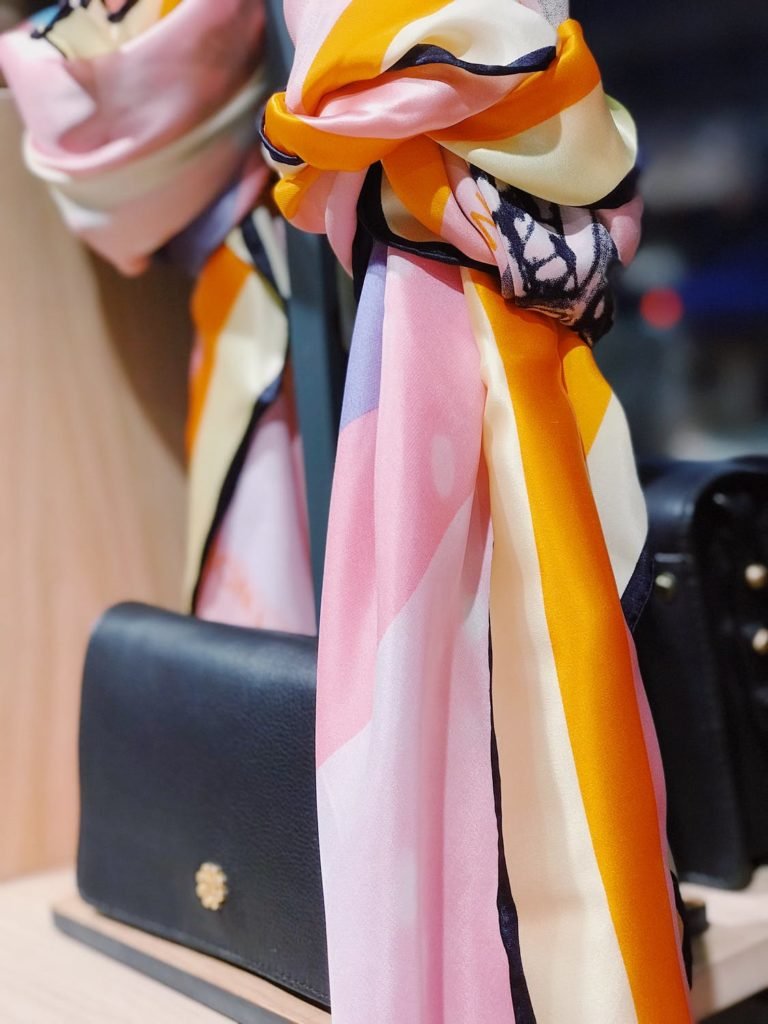 Lots of different things you can do to give an outfit a lift when you think about belts, bags and even backpacks. A simple way to accessorise is to loop the scarf around your waist, and tie it in a knot or bow to add some texture to a simple ensemble!
A scarf "belt" is great for a nicer occasion as well as with a pair with jeans for more relaxed, weekend wear. Hartwell Clothings 100% silk scarf range is perfect for this lovely style statement.
Wrapping a silk scarf around your belt, creates a colourful and fun way to style your outfit. You can also use silk scarves to completely replace belts to add some flair to any outfit.
Wrap a pretty pattern on your handbag handle, or simply tie it around your favourite tote's strap for an instantly chic touch to any outfit.
3: Silk shoulder wrap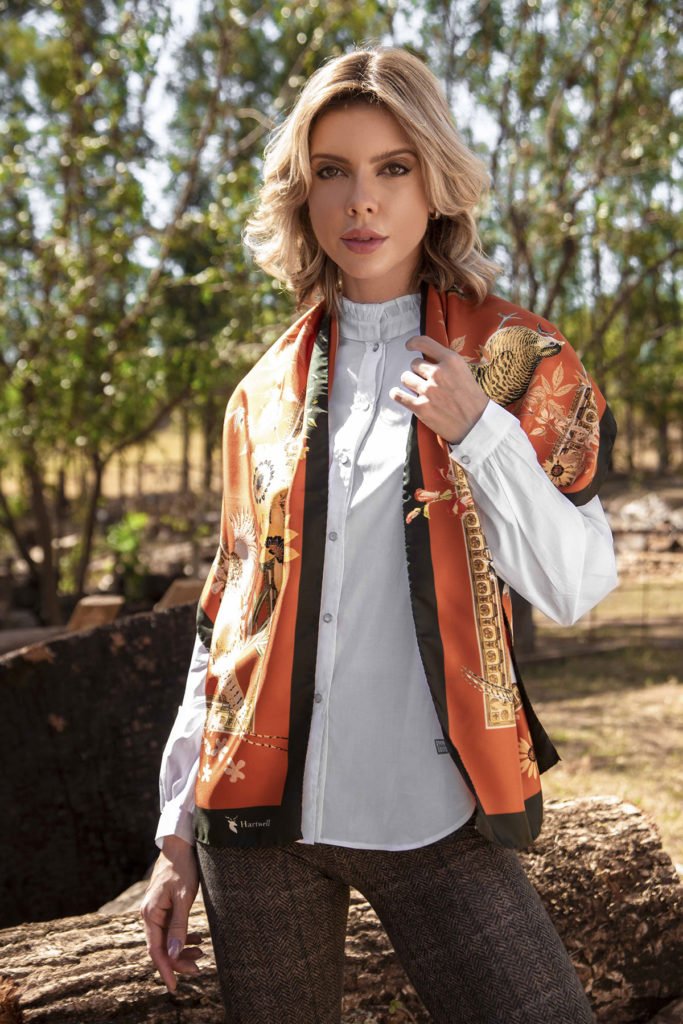 For days when you need a reassuring hug, use your Hartwell Silk Scarf as a shoulder wrap. When wrapping the silk scarf around your shoulders and wearing it throughout your day, you will feel the soft touch of silk that's comforting and reassuring.
4. Knot it into a headband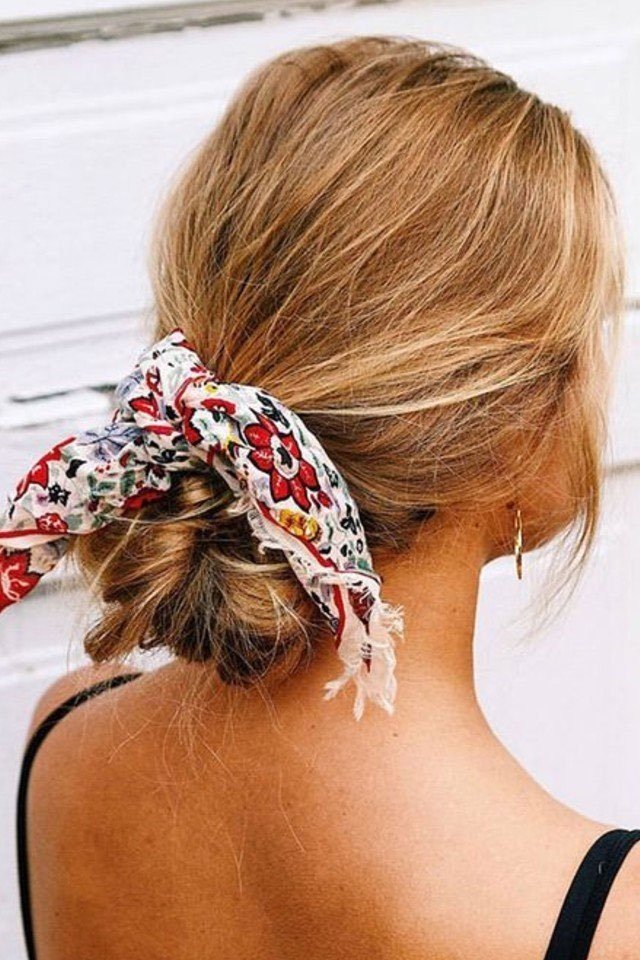 This tends to be the way silk scarves are most used, and with a collection of scarves in your wardrobe you can brighten up any outfit.
You can tie silk scarves around your forehead or behind your head, creating an updo that looks (and pretty much is) effortless. They can be tied loosely for a casual look or tightly for a more formal style.
Create a knot in the scarf to place in the front. Then tie the ends around your head in the back over your hair. You can also style it by creating a bow at the front or tucking or twisting parts of the scarf in.
If you want extra volume at the top of your head, choose silk scarves with fringes to add texture to your hairstyle.
Styling is about innovation and experimentation and with 3 or 4 unique silk scarves in your wardrobe you can have fun and reinvent your personal style.
5. Add it to your bun or braid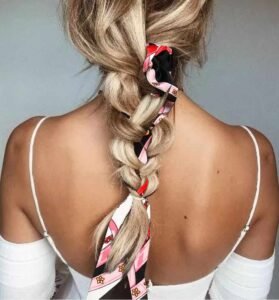 A silk scarf can also be tied into a messy up-do or braided into your hair if you have long hair.
That said, you don't have to have long hair to style your hair into a bun and tie a silk scarf at the base of it. Silk scarves are great accessories for any hair length because they aren't bulky.
Incorporate one to add some dimension to a simple ponytail.
There is also the practical element, particularly when working around the farm or with horses. Best to keep your hair safely out of the way, but you can still do it with some Hartwell Clothing style.
The Wrap
Obviously lots more than 5 ways to blend a silk scarf into your daily wardrobe choices, but it's a start.
Why not take yourself back to your youth and try some hippie-inspired bohemian looks.
At Hartwell we love inspiring our customers to be creative and chic, it's our life. If you'd like to know more about country fashion, check out our blog on 5 modern ways to style your outfit.
Live well, dress well, Hartwell.
Shop Scarves