Country Themed Clothing Retailers in London
It may be thought that the country look and styling is "well" only for the countryside, but nothing could be further from the truth. Country attire has been an iconic fashion statement for many years and even in the big city it is trendy to "go country". Certainly, Ladies in London recognise the channels multi-occasion use for office, evening and lunch socials, city days out, and of course riverside walks and London's great parks.
Hartwell continues to cater to women across the United Kingdom with our growing range of countryside based stockists, but we recognise that big city residents and workers love to enjoy a taste of country styling.
So let us take you on a short journey across London with some of the best known and well-loved country clothing and accessories shops in the capital.
Cordings of Piccadilly
Cordings is a renowned emporium, synonymous with clothing, footwear, and accessories for country living, and remains a well-established shop for ladies and gentlemen to visit before heading off into the countryside.
Formed primarily as waterproofers In 1909, JC Cording & Company was granted the Prince of Wales warrant, and in 1922, the young Prince officially adopted Cordings as an outfitter of choice.
2003 saw a leap forward with the inauguration of a Woman's range of clothing. This met the needs of ladies who found it challenging to find practical yet stylish country-style clothes that remained feminine and were manufactured with lighter fabrics.
Cordings managed to do this without losing the brand identity and elements of their core product range. To this day the Cordings name is time honoured as a go-to place for ladies and gentlemen who wish to cut a bit of a dash in the city.
Farlows of St James
Farlows was founded in 1840 by Charles and John Farlow and started life in Crooked lane as the pre-eminent supplier of fishing tackle equipment.
The business has evolved since then and although still synonymous with fishing its full range of ladies and gents wear for country pursuits or for standing out in the city crowds has proven more popular every season. Now located in Pall Mall they are firmly recognised as a leading supplier of clothing for discerning ladies and gentlemen who wish to invoke the countryside styling but demand comfort and modern designs.
They are looking to possibly expand their Ladies' range in 2021.
Watch this space!!!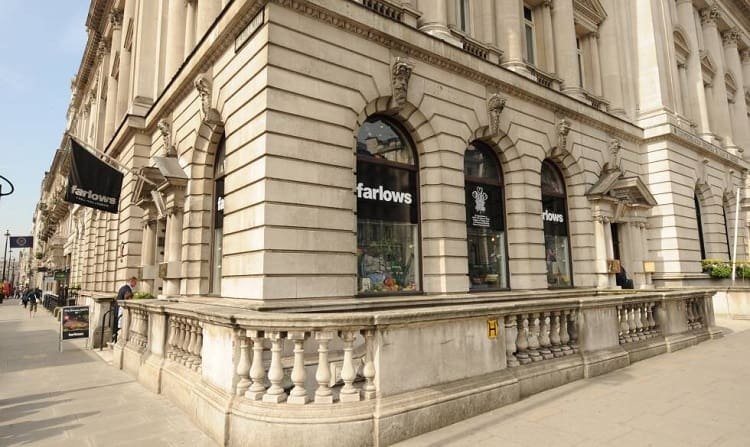 William & Son
Based in London's Mayfair, William & Son have forged a solid reputation in the countrywear market for town and country living purchases. But it's the big city dwellers that are recognising the strong fashion trend of classic country wear and the resurgence of comfortable and hard-wearing country clothes that still embody style and elegance.
For over 20 years the company has taken a very British take on life's finer things and remaining true to their founding principles with a loyal customer base, has seen the name William & Son earn a coveted Royal warrant.
Like many of the big cities country wear outlets, they have recognised that those in the cities and towns also wish to stand out from the crowd in the fashion stakes, but stay in keeping with their love of the British Countryside and its pursuits.
Countrywear "particularly for ladies" is no longer heavy and cumbersome and one dimensional in colour The use of modern fabrics and elegant designs delivers style.
The Wrap Up
Countrywear never seems to go out of fashion and remains a growing trend amongst a whole new generation. Prints in vivid colours and in vogue designs continue to delight the discerning country clothing buyers.
As you will probably already be aware the Hartwell Clothing brand also has a great range of ladies country clothing and perhaps more specifically a growing choice of ladies country shirts.
Live well and dress well in the cities and towns as well as of course, in the country.