Much as we have all been enjoying the warm embrace of sunlight on our skin during these last few sultry summer days, Autumn is almost upon us. But being in The British Isles means we are just as likely to be needing to cool down with a cold drink and hardier souls can still swim in the sea or we will be hurriedly pulling out the Hartwell Jackets and Knitwear.
This time of year is when having a wardrobe populated with good quality versatile pieces will pay you dividends as we start to look at dressing for warm days and decidedly chillier evenings.
Dressing for the weather
As always in the UK, planning your outfit for a few days away, a weekend break or even day to day is always somewhat easier in the summer and winter.
You want to be practical, but keep that sophisticated and stylish look that Hartwell Clothing delivers. Finding a happy medium when the cool breeze or odd rain cloud springs up or you surprising walk out the door to strong sunshine, is not always easy.
A Long or short sleeved multicolored printed ladies shirt is a perfect solution as a first layer, and we have some truly stunning ladies country wear to choose from. Hartwells Ladies Country Shirts are at the core of our contemporary countrywear range.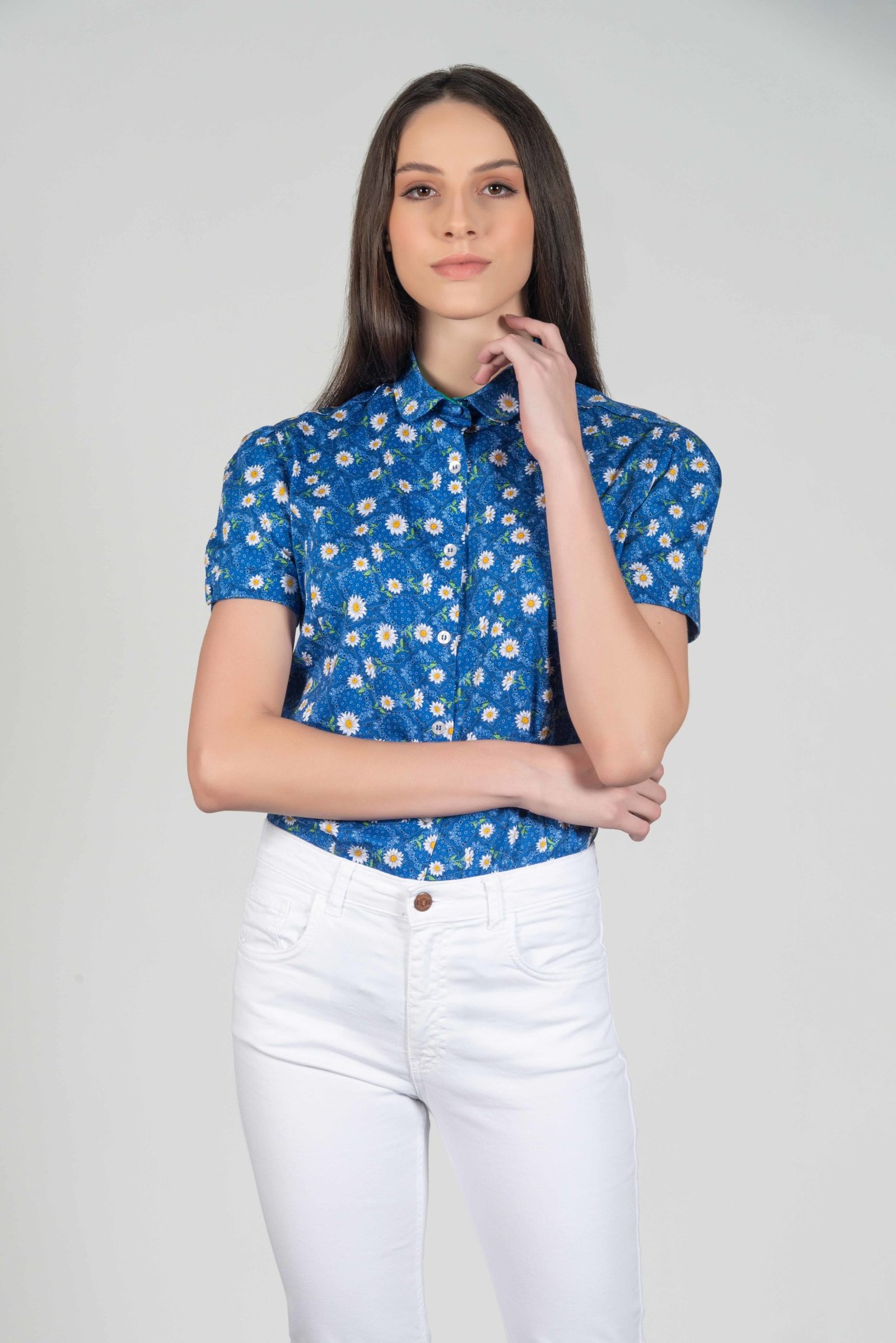 Two great examples for warmer days and cooler evenings are our Luna Blue Bandana luxury short sleeve shirt and our Layla Red Paisley luxury cotton shirt.
The Luna Blue Bandana is perfect for those warm morning brunches or a lunchtime ramble and is one of Hartwells Clothings brand new short sleeve shirts for 2023. With a curved shirt collar design and cuff buttons, this fitted shirt features our bright and beautiful floral bandana print and is only available from our website.
The beautifully cut 100% cotton satin lycra is slim fitting with a sleeve opening
And a chic 'Peter Pan' collar. Additionally the shirt features a cleverly designed hidden modesty button. The other good news for those of you working the farm or stables or rambling the Great British Countryside is that the Luna is machine washable up to 30 degrees so don't worry about a little muck or mud.
Once the evening turns a little cooler make a quick change into our stunning Layla Red Paisley luxury cotton shirt. This brand new paisley print has gorgeous pops of colour. 100% cotton satin lycra, it is a beautiful shirt with all the Hartwell details you've become accustomed to. This beautifully vibrant printed shirt is made with 100% cotton satin lycra and has a small collar, with an eye-catching contrast colour inside the collar, cuff and with contrast piping inside the cuff. The shirt also has Hartwells very popular hidden modesty button.
The beauty of these stunning shirts is the high quality and that they are lightweight and easy to pack, so with a small weekend bag you can carry style options for the changing weather.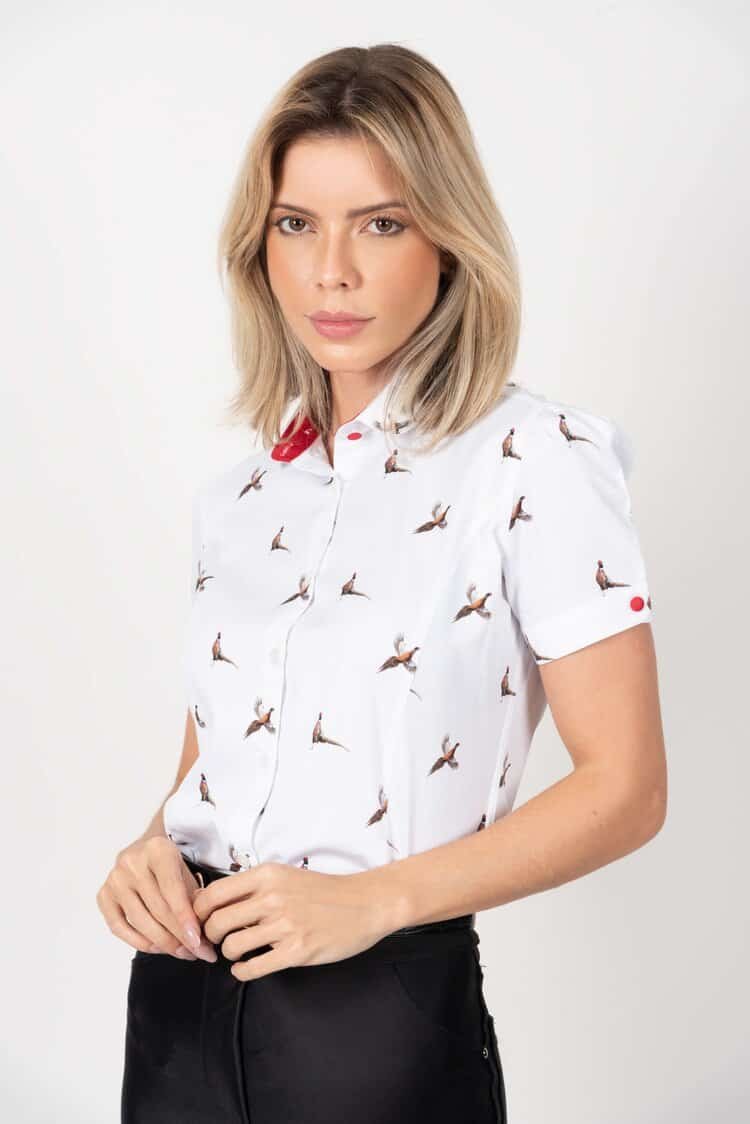 A couple of other wonderful combination ideas are our Luna Pheasant Friends luxury cotton satin short sleeve shirt partnered up with the Layla Black Flowers luxury cotton satin shirt with its contemporary statement print. Or wow your friends and family with our Luna Beige Pheasants luxury short sleeve shirt during the day and warmer early evening "if we are lucky", and the fabulous Harper Red Hunting long sleeve shirt, with classic hunting scenes on a beige cotton fabric.
Light Layers Are Key
Keep your outfit flexible for this time of year to comfortably cope with warm days and chillier evenings, but you don't have to sacrifice style.
If you really want to wear your favourite Hartwell Clothing coat on a warm winter day, you can. Just layer it with something really light like shirts and blouses so you can easily take it off if you need to. And the same goes for the opposite. If you don't want to wear a coat since it's warmer outside, you can add some light layers like a cute winter hat or gloves or quality knitwear that is light and warm.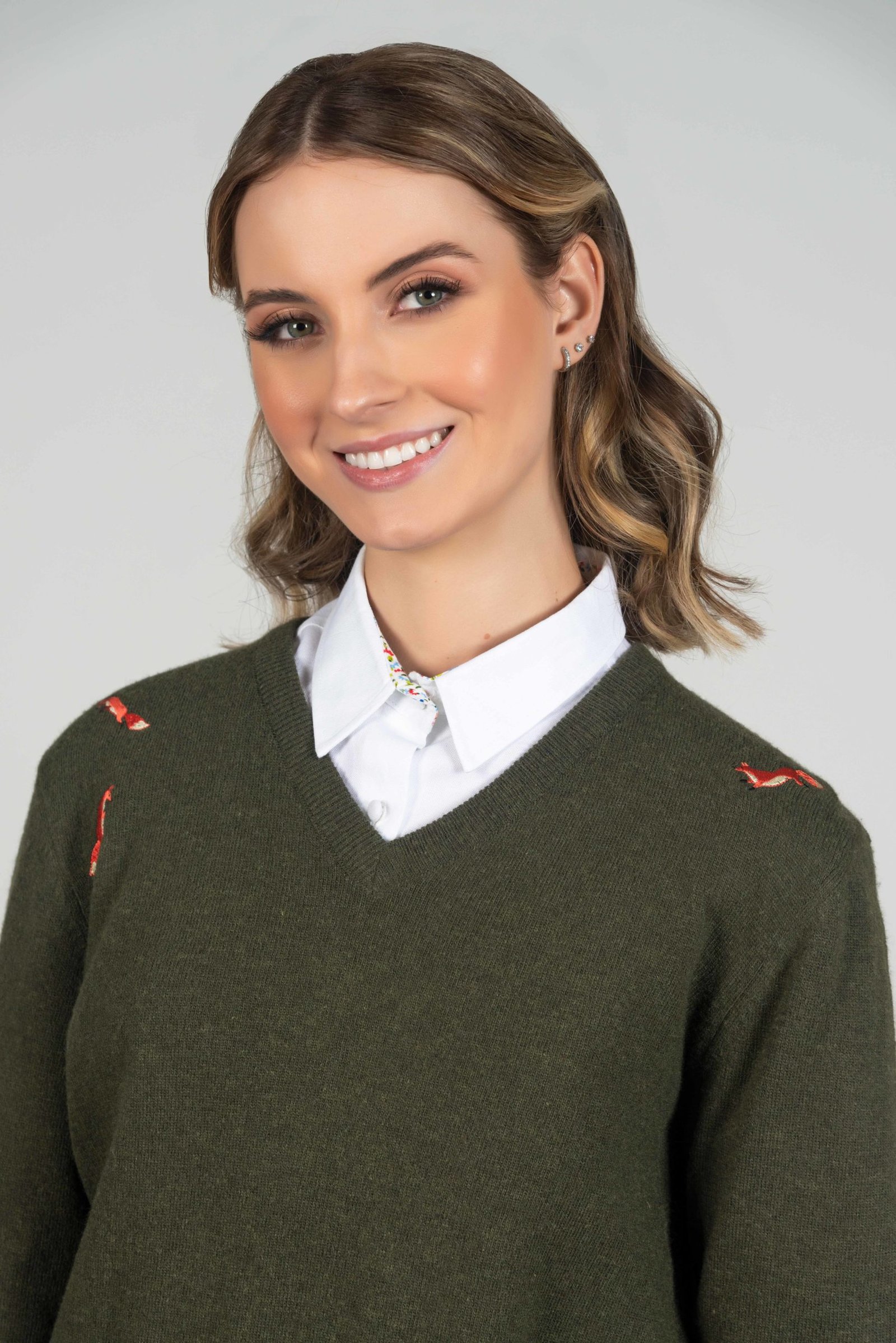 Hartwells beautiful knitwear is so super-chic and versatile that you might even quietly pray for a temperature dip from time to time just so you wear them as standalones, or a warmer evening so you can peel off the coat and watch the admiring glances.
The cut and quality of your wardrobe items also greatly helps to cope with those sometimes dramatically changing temperatures that can happen in a single day. Quality fabrics allow your skin to breathe or to maintain its warmth, and if the garment feels great and allows you to move easily, you will easily adapt to a sudden chill in the evening or to a break in the clouds with warm sunshine.
When it comes to quality layering and versatility we have to mention our stunning Hartwell Silk Scarves. This beautiful range of 100% ladies silk scarves are enhanced with a unique vibrant coloured print with gorgeous detailing of classic country motifs, this 100% Italian silk scarf is printed on both sides. It measures a generous 153 centimetres by 43 centimetres and is guaranteed to add a touch of class and style to any outfit.
They are perfect for keeping the strong sun of sensitive skin, protecting the hair style from sudden cool winds and for simply draping over your shoulder or adorning your neck as an additional layer against those evening chills.
Wherever you are travelling or working and in the countryside or the towns, a couple of Hartwell 100% silk scarves in your bag or the car, will always come in handy.
Wear The Right Shoes
However warm it becomes in the Autumn or early Winter, do not embrace the flip flops as they really are only for extremely hot weather, beaches and boats. Also you don't need to breakout the hiking or additional riding boots as soon as the temperature drops, however keeping your feet warm or wearing footwear like breathable shoes or trainers will certainly help your body adjust to the changing temperatures, a good pair of loafers, or ankle boots works well and you can use colours or footwear features such as buckles to brighten up the jeans or leggings if you need too.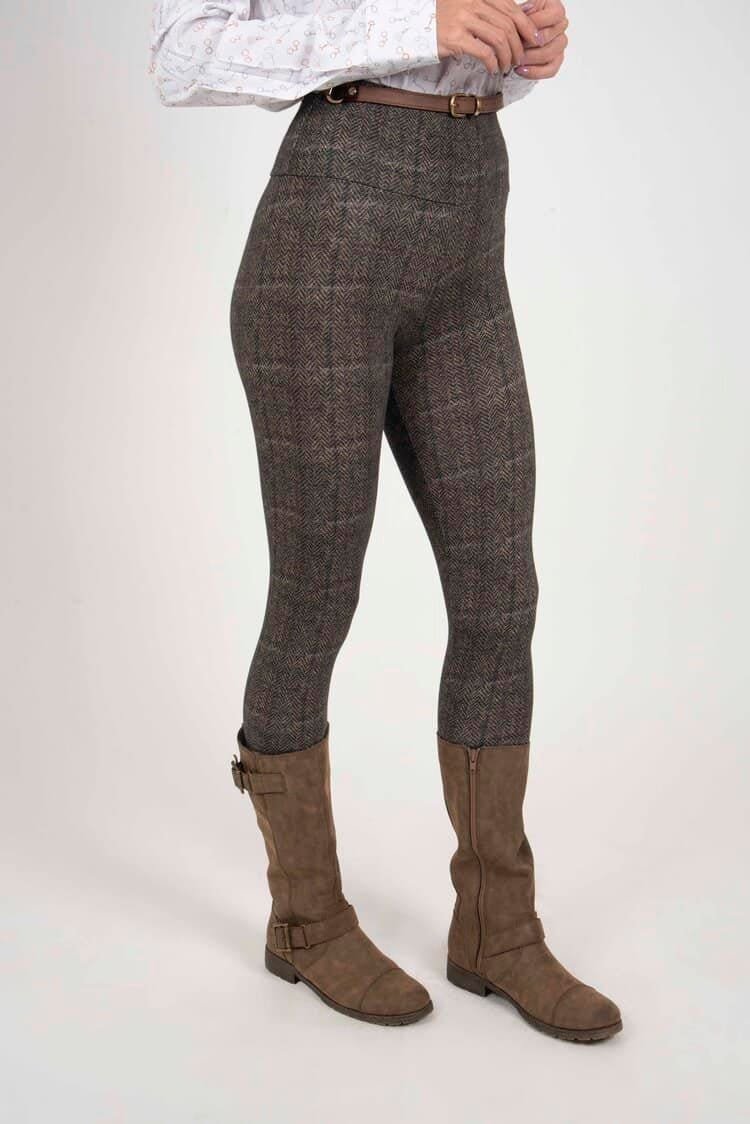 Knee high boots with a skirt and stylish shirt or blouse will work as your legs will still benefit from air flow, but your feet will be protected if you get caught in one of those sudden Autumn showers.
If you decide to still risk a lighter sandal or shoe, try and wear ones with a good sized heel, and sole, as they will keep your toes out of any lingering puddles.
The Final Wrap
Food for thought as we start to be prepared for the windy and slightly cold night temperatures as well, look at items that are easy to pack and easy to layer and made from good quality fabric.
As far as full on Autumn and Winter clothing goes, take a look at the Hartwell Autumn/Winter collection and our extended knitwear range.
Don't let the sun fool you, make sure you're ready for any weather this Autumn.
Live well, Dress well, Hartwell