"It's the most wonderful time of the year"
Well it is for many of us and for millions of families across the UK as it draws nearer to the Christmas holidays, which give us all time to spend with loved ones and friends and to engage in the age old tradition of exchanging gifts.
Excitement is already mounting as always in the Hartwell clothing office.
It is also a time of year when the winter season is in full bloom across the Great British countryside and with bountiful green Holly bushes, Robins a plenty and the leafless trees creating a new landscape that delivers a great hiking and rambling experience.
So back to the "exchanging gifts" part of christmas.
Around 336 CE, the date December 25th appears to have become established as the day of Jesus's birth, and the tradition of gift-giving was tied to the story of the Biblical Magi giving gifts to baby Jesus.
As Christianity became increasingly widespread in Roman lands, the custom of exchanging gifts slowly became a part of Christmas celebrations in countries such as Great Britain.
But for some people finding the perfect gift or being perceived as a great Christmas "gift giver" can be a mildly tense experience (particularly for us poor men), but of course Ladies bear the brunt of Christmas Present shopping.
So Hartwell Clothing are happy to invite you to read on, as we look at some easy Christmas countrywear shopping ideas.
Should I risk clothing as a gift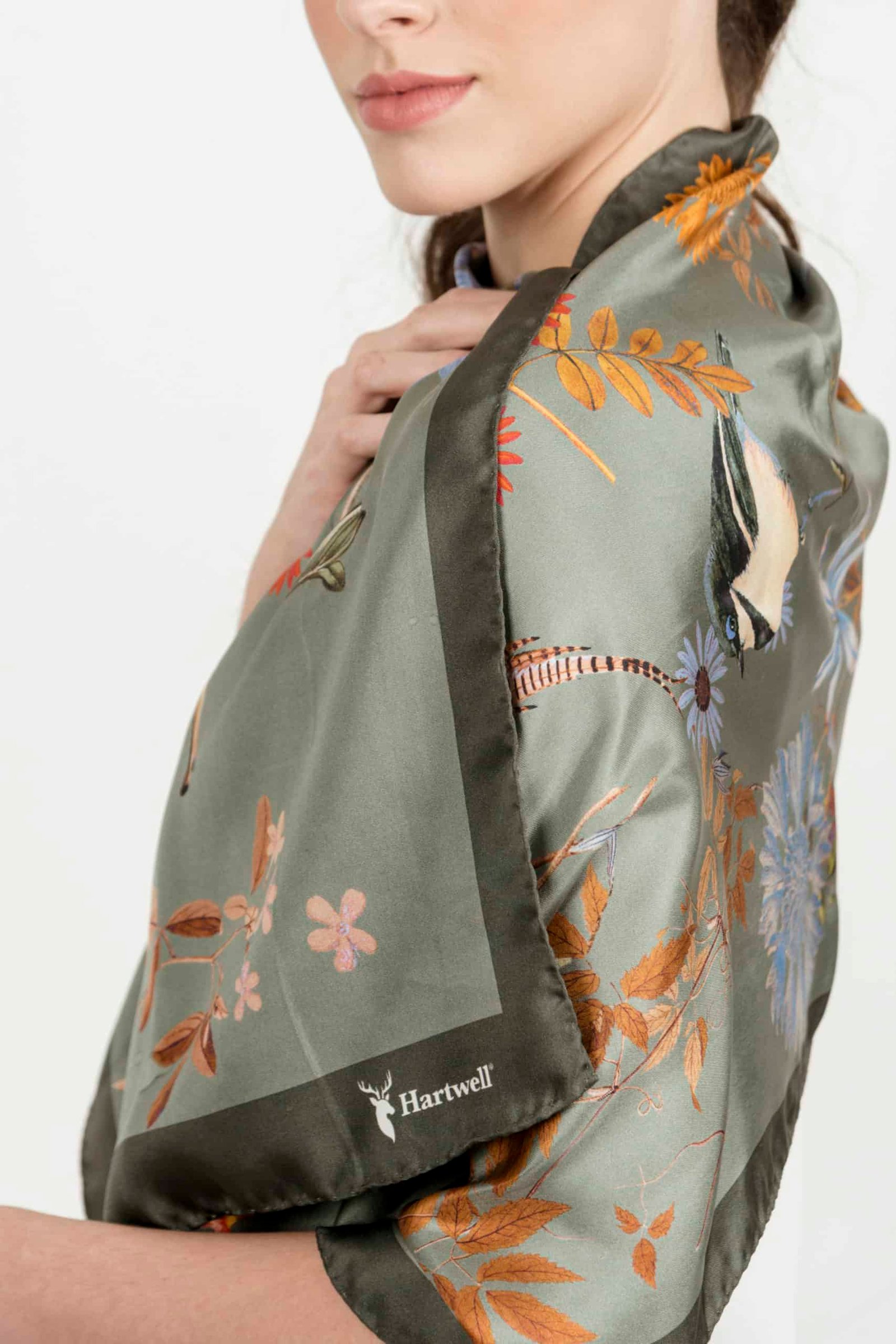 Knitwear, scarves, gloves etc have long been a staple Christmas gift but this year you can ensure that your gift is both stylish and good quality, as well as being confident that you're buying from an ethical and sustainable supplier.
Contemporary country clothing is now wonderfully chic and gone are the days of drab design and a colour palette that seemed to feature only different shades of green.
People often say it's not about the size or value of the gift it's about the thought that goes into it, and when you buy one of Hartwell's uniquely designed ladies shirts, jackets, knitwear or scarf, the recipient knows that you have given thought to their taste, style and love of chic fashionable country clothing.
Some perfect examples are our stunning Ladies Country Shirts. The Lydia Kissing Pheasants luxury shirt says everything about the message you want to convey at Christmas. Featuring pairs of kissing pheasants, printed on a subtle beige flowing Luxury soft touch fabric viscose fabric.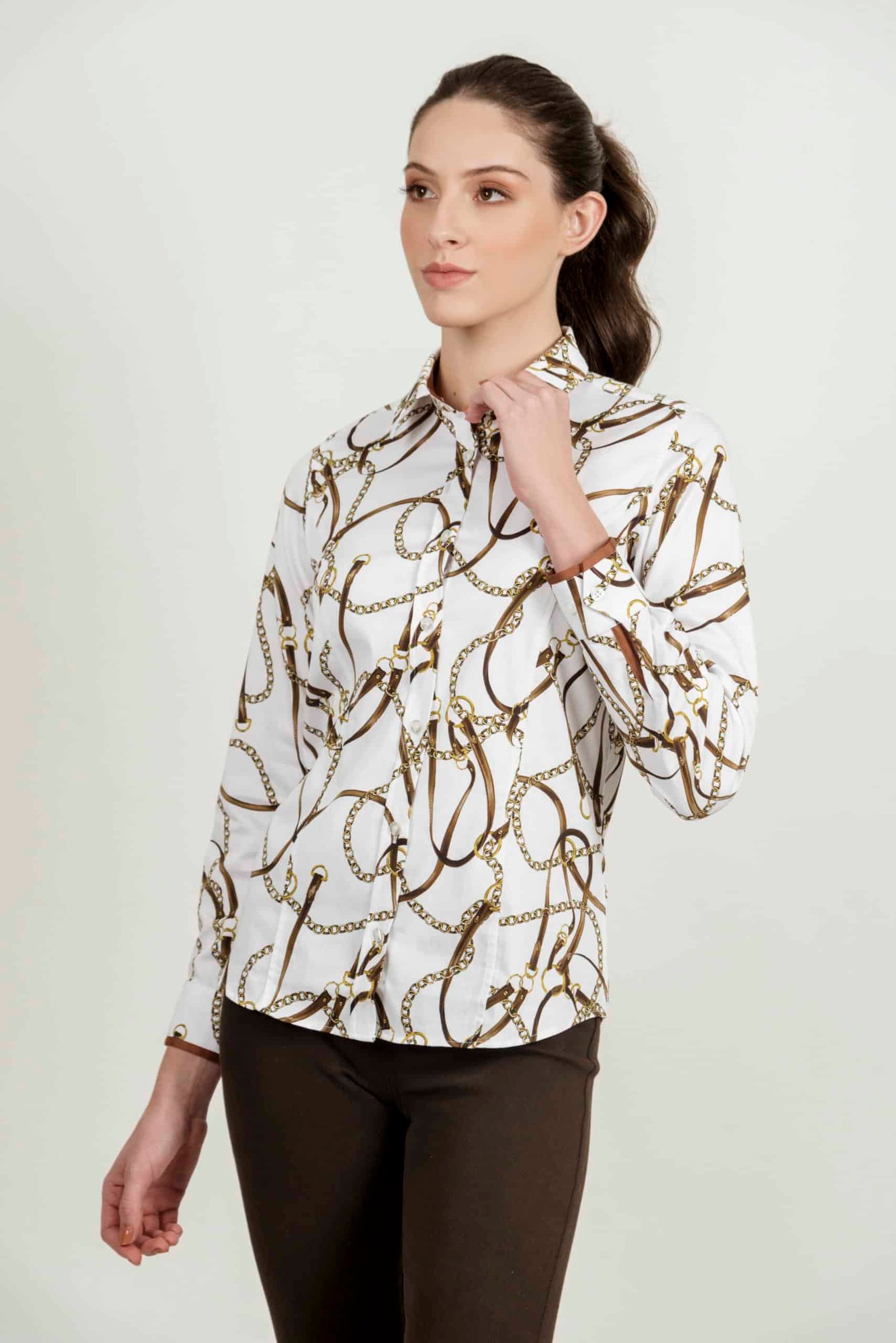 As does Hartwell's Layla White Chains luxury cotton satin shirt which is hugely popular with equestrian fans and fashionistas alike, and its allure to gold which is always a much looked forward to colour at Christmas, makes it a must have on any Christmas gift list.
The colours of Christmas are beautifully represented in our Sabrina 100% Italian silk scarf with gorgeous detailing of classic country motifs, this 100% Italian silk scarf is printed on both side's and is guaranteed to add a touch of class and style to any outfit.
You can always be reasonably safe around Christmas with knitwear gifts, but you can elevate your present with a beautifully styled piece of Hartwell knitwear that will leave your loved one or friend feeling the warmth of Christmas on the big day.
Our Amanda Burgundy Snaffle round neck top is just stunning. This burgundy knitwear top is decorated with gold snaffle bits and with 5% Cashmere, it looks and feels luxurious. A perfect round neck collar means that any additional jewellery presents can be shown off.
What about a gift that's ready to wear for that boxing day countryside walk when you make an effort to minimise the effects of the Christmas feast and those extra mince pies. Hartwell's Suzy Pheasant Friends 100% cotton sweatshirt is perfect. Made from 100% Cotton, our new Suzy summer sweatshirt is a super soft and light fabric. With a zip and our familiar 'Pheasant Friends' print, it's the country casual look redefined!
But let's not forget the Men. Hartwell Clothing offers a stunning range of contemporary Men's country shirts. Blending country style with a contemporary twist, each and every Hartwell garment is British-designed to look great everyday. Using only the finest quality fabrics, our unique prints and modern designs are bringing more choice, colour and style to Men's country clothing.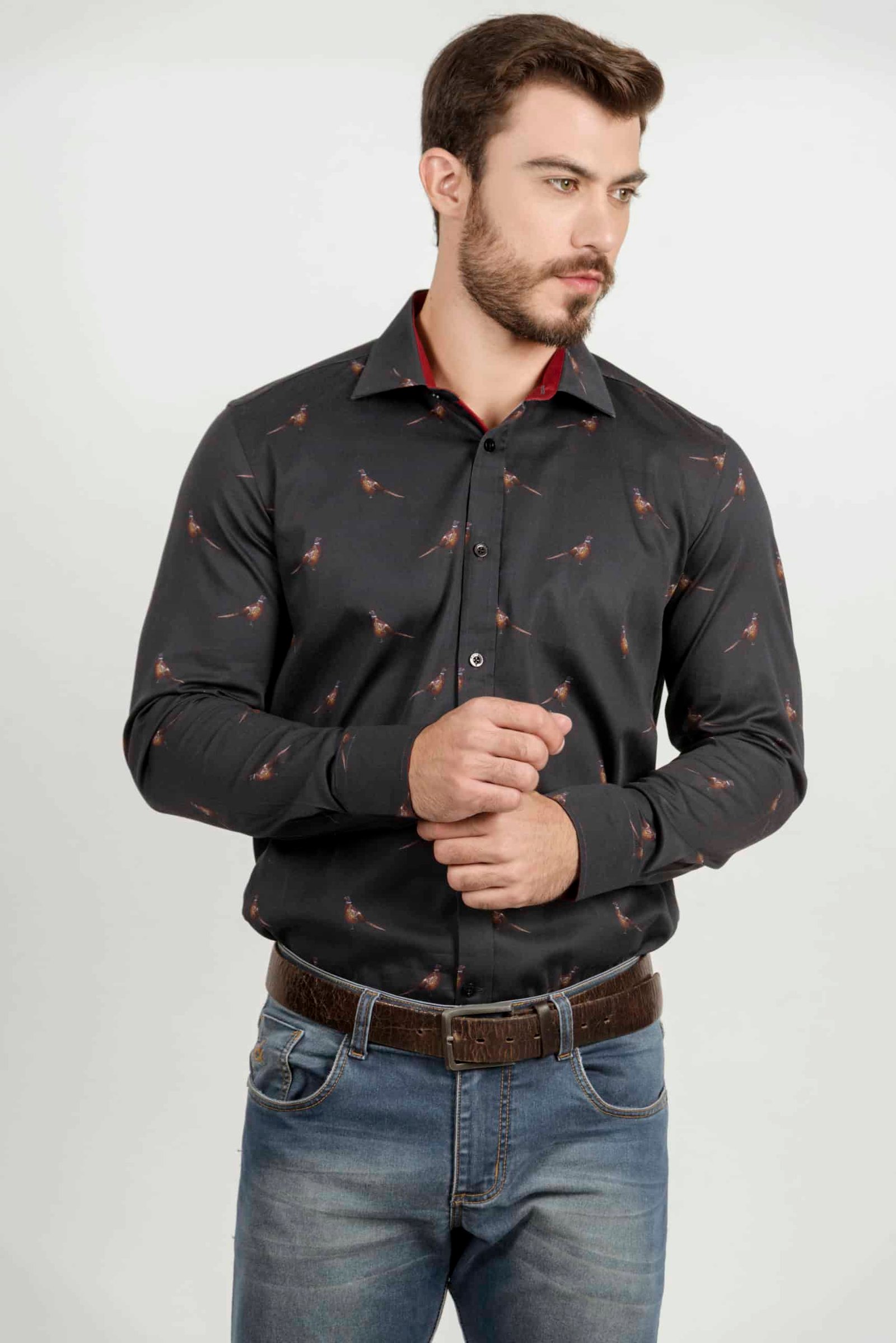 For the countryside loving man in your life or in the family, a Hartwell Mens country shirt will look fantastic at the dinner table on Christmas day.
And finally once your fantastic Hartwell Clothing gifts are out of the wrapping paper and have been appreciated, remember our always popular Spotted In Hartwell gallery.
We would love to see your wonderful Christmas photos of you wearing the Hartwell. Or if it's easier why not send your Christmas photos to the Hartwell Instagram page.
Shopping in Time
At Hartwell we offer free UK delivery for orders over £100 and for orders under £100 we only charge £3.50. All UK deliveries are dispatched using a Royal Mail 2nd Class signed For service, which typically takes 2-4 days.
Tracking numbers are emailed to customers upon fulfilment from our warehouse, enabling you to track orders online.
And if you're an expat or overseas spending Christmas with family or friends, Hartwell has got you covered.
We deliver across the EU and shipping is only £10 for a single item with the USA & Canada being charged at £20 per single item. For our cousins down under across Australasia, shipping is charged at £15 for one item.
For your piece of mind so that you know your Hartwell Clothing Christmas gift will arrive before the big day if you order in time, all Hartwell international orders are shipped with the Royal Mail International tracked service.
Please check our full terms and conditions for shipping before you buy.
So shop now on the Hartwell Clothing website, and you can surprise and delight those you love with a great Christmas gift, without any shopping stress.
All of the team at Hartwell Clothing would like to take this opportunity to wish you and your's a very Happy Christmas.
Live well, dress well, Hartwell.