Who does not love a good steak in a countryside pub after a hard day on the farm or in the stables. And of course for those country folk of leisure after a long ramble a perfectly cooked steak in front of a log fire or in the pub garden during the few weeks of the great British Summer, is a joy.
There is nothing more Scottish than Highland Cattle. One of the most sought-after Scottish experiences. Countryside lovers can't seem to get enough of meeting Scotland's hairy and loveable Highland cows. Or as the Scots call them, Heilan Coos!
Highland cows are raised primarily for their meat, which has grown significantly in popularity due to being lower in cholesterol than other forms of beef. They are a tough breed, designed to withstand the rugged conditions in the Scottish Highlands.
Iconic, cute and extremely photogenic, these hardy yet docile animals can be found right across Scotland, including the islands. We would love an addition to our Hartwell Clothing gallery page of you wearing the Hartwell with one (or more) of these magnificent beasts.
Depending on where in Scotland you're visiting, we've put together some top picks in a country-wide guide for getting up close to them, and to help you learn more.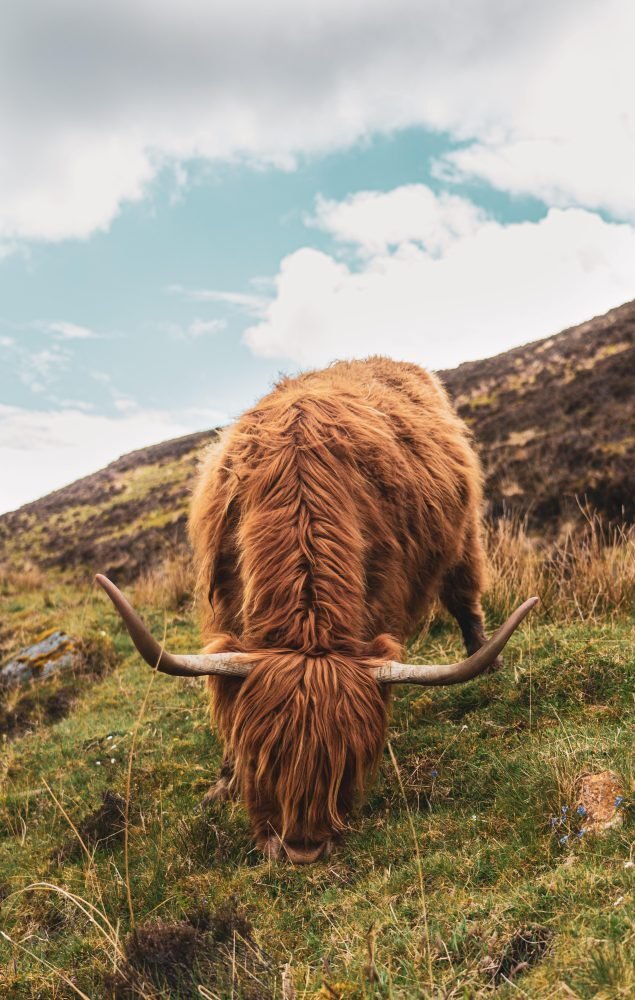 Why they are special
Highland Cattle are an historical breed known to have grazed the rugged Scottish landscape since the sixth century. It is still a matter of debate as to whether they were an origin of Scotland or imported from Scandinavia perhaps with the Vikings when they invaded Great Britain.
The cattle have for generations been a valuable source of meat and milk for the "Crofters", small farmers of the high country who lived principally by fishing and by agriculture. The cattle hair too was useful in the process of spinning yarn.
In 1884 when the Scottish Highland Cattle Society was formed most of the animals registered in the early herd books were black.
The Highland has the grandest head with a long fringe that almost appears to cover the eyes. The horns that are long and darken towards the tip, it is these features that make them memorable and highly distinctive among other breeds of cattle. Most farmers in the UK will know them, and even non cattle farmers, hold them in affection.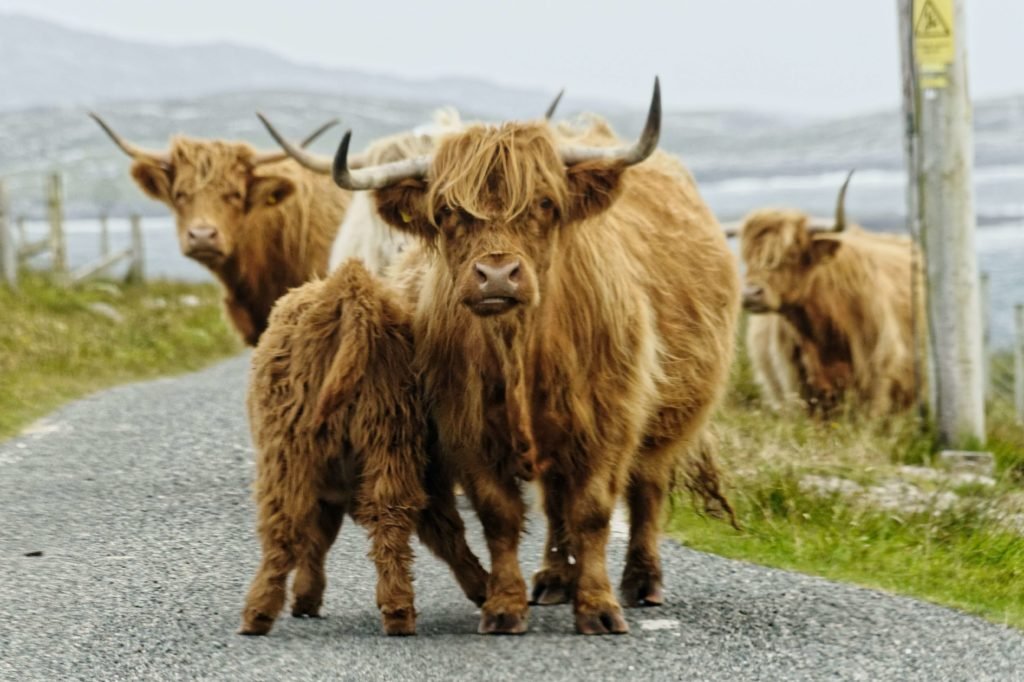 Highlands have a double coat of hair. They have a downy undercoat and a long outercoat which may reach 13 inches, and which is well-oiled to shed rain and snow. With the double coat of hair and thick hide, the Highland breed has been adapted by nature to withstand great exposure.
 It is not uncommon for Highlands to shed this heavy hair coat when exposed to a hot dry climate and then grow a new one as the damp cold weather returns.
While on the subject of damp cold weather, check out this stunning June Cherry wax cotton jacket in Hartwells new collection. It makes a statement whatever country pursuit you're dressing for.
Made from UK fabric, its fitted style creates a more feminine aesthetic. The jacket has a suede collar,large, closed pockets and a zip fastening
Keep your eye open for clumps of Highland cattle hair when your walking the highlands on a beautiful summers day (Yes they do have them in Scotland)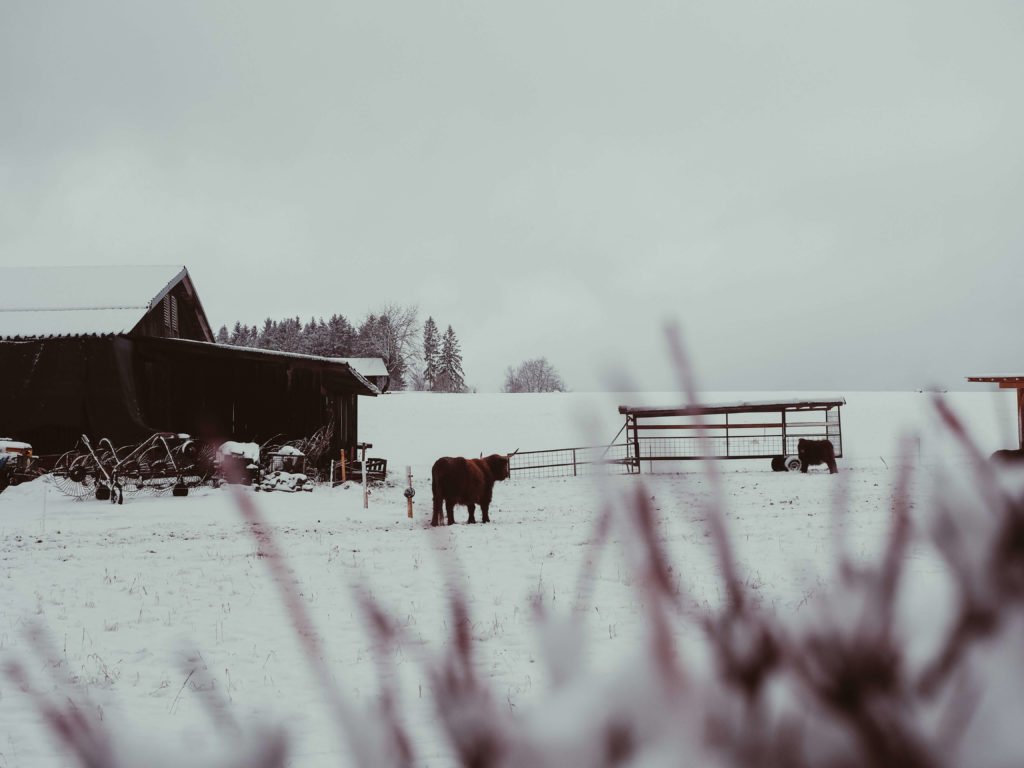 Paying a visit
A trip to Scotland is always filled with wonderful countryside vistas, stunning mountains and lots and lots of fresh farmed produce to enjoy.
Take a look at Visit Scotland's website for a unique trial across Scotland featuring 13 UNESCO world heritage sites. Lots of fantastic walking experiences and a leap into the past as you explore ancient Scottish History.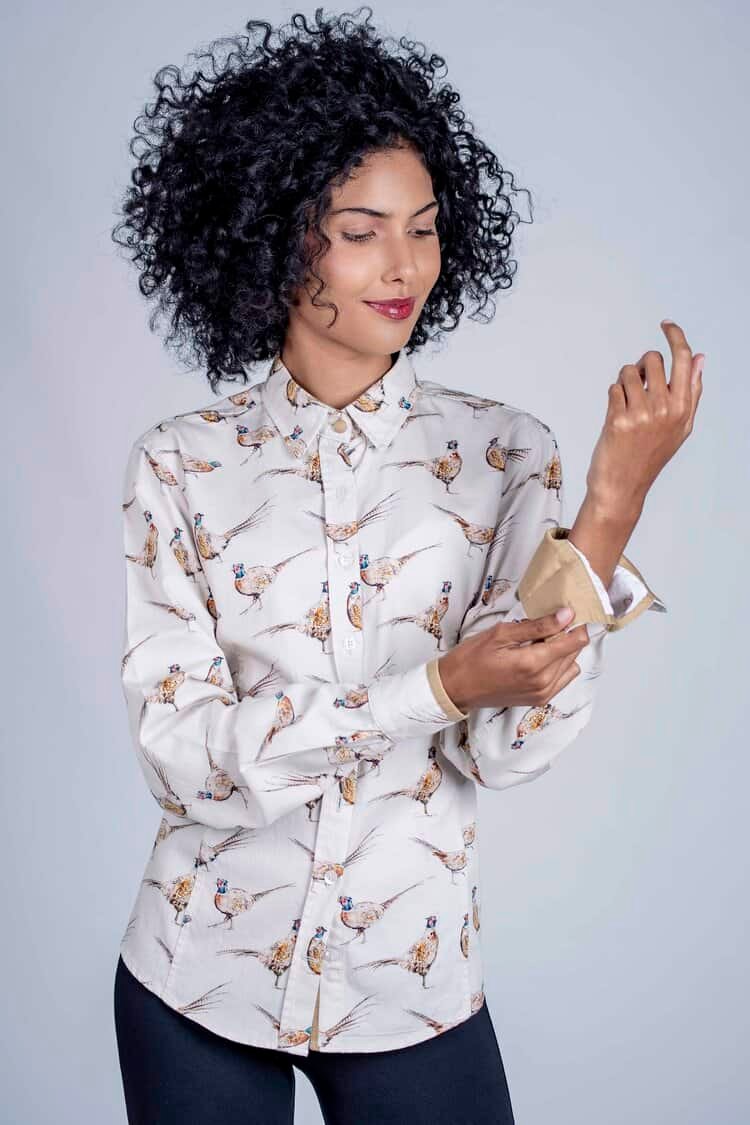 But of course as well as visiting the Hartwell Clothing Scottish stockists on your travels to top up the wardrobe and turn on the style, you will want to see those beautiful Highland cattle, and we have a couple of great location tips.
In the beautiful Scottish countryside of Deeside in rural Aberdeenshire is the much acclaimed Aberdeen Highland Beef Farm.
Their Highland Cattle winter out on the hills of the Cairn O' Mount, and happily live outdoors all winter. They forage on an abundance of mixed grasses, flowers, heather and trees.
There habitat couldn't be more idyllic for this majestic, native breed. Clear running streams provide their drinking water, and with fresh, unpolluted air and pasture, living as nature intended, their lifestyle creates a wonderfully flavoured beef delicacy, like a fine dram of pure malt whisky.
They have a butchery and maturation facility on site at the farm, to enable them to retain complete control over both the quality and provenance.
Here are a few more Highland cattle finding tips from our friends at visit Scotland.
Applecross:

One of the best known spots for a guaranteed sighting of free-roaming Highland cows is the minor coastal road called Bealach Na Ba, a historical cow drover's road running between Applecross and Shieldaig. Do drive carefully!

Fort William and around Ben Nevis

: See Highland cows in the fields around historic

Cow Hill

at the edge of Fort William. It's named after the cows which have always historically been kept there by Highlander farmers. Glen Nevis and Glen Coe are also great spots where you're likely to see Highland cows living amongst the stunning backdrops.

Ardnamurchan

: On the gloriously green north west coast near Fort William, Highland cattle wander freely around the area of Ardnamurchan and at nearby Sanna beach.
Some truly stunning walks, cycle rides and drives, to explore the wonderful Scottish scenery and taste some of the best beef in the world. If you're staying for the weekend "and why not" pack some Hartwell Ladies shirts for the evening and breakfast. After all, style and food always complement each other.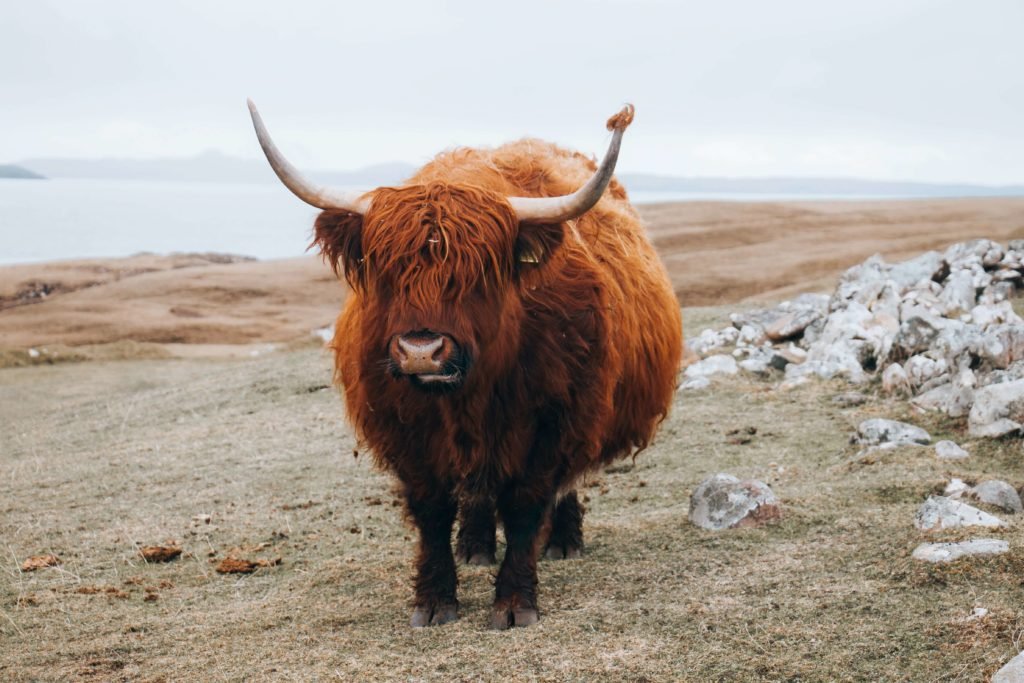 The Close
The Great British countryside is truly blessed with such a wide variety of wonderful creatures, and to see these awesome beasts in their natural habitat should be on every countryside lover's bucket list.
So pack up the Hartwell or visit our online new collection and "cut a bit of a dash in Scotland"
Live well, dress well, Hartwell.
Highland cow images courtesy of mollison.co