There are few garments as versatile as a midi skirt, as an item of clothing that you can comfortably wear for both formal and casual occasions. It can also be worn across the seasons, and can be a great look for summer, autumn, winter, or spring, a midi skirt can easily be classified as a garment for all seasons. It is little wonder that midi skirts have remained a top fashion choice for ladies over the years.
Now, what qualifies as a midi skirt? A midi skirt is a flowing or fitted skirt that has a mid-calf length hence the name midi. It is a timeless garment to include in your wardrobe. A midi skirt styled correctly can change the way you look. It's easy to wear the same midi skirt in more than one way but also, it fits very well across different social settings.
The passionate team at Hartwell clothing presents a season-wide guide on effortlessly styling a midi skirt.
Spring/Summer
For a formal look, midi skirts look fantastic when paired with a unique printed countryside themed shirt. You could go with the comfort of a crisp cotton shirt for sunny summer days. A plain blue cotton shirt matched with an embroidered white linen skirt.
We all love that summer look. Nature is at its best and those sunny days bring such a lift to daily life. Why not express this, in the way you dress. It is definitely the right time to break outl the bright colours and embrace the countryside look. Flowery midi skirts with lightweight materials like silk and chiffon are ideal for summer.
A midi skirt's versatility allows you to effortlessly go from work to a casual look, by doing something as simple as pairing it with a t-shirt or a tank top. Since it's summer, you can also play around with floral printed and silk pleated skirts.
Including this type of skirt requires minimum styling, making your life easy. For example, if you are going for a floral skirt, wear it with a white T-shirt, to accentuate those wonderful flower colours. Add a hat to complete the look. Choosing skirts in light fabrics is the perfect option for those summer and spring evenings, and the countryside pub beer garden.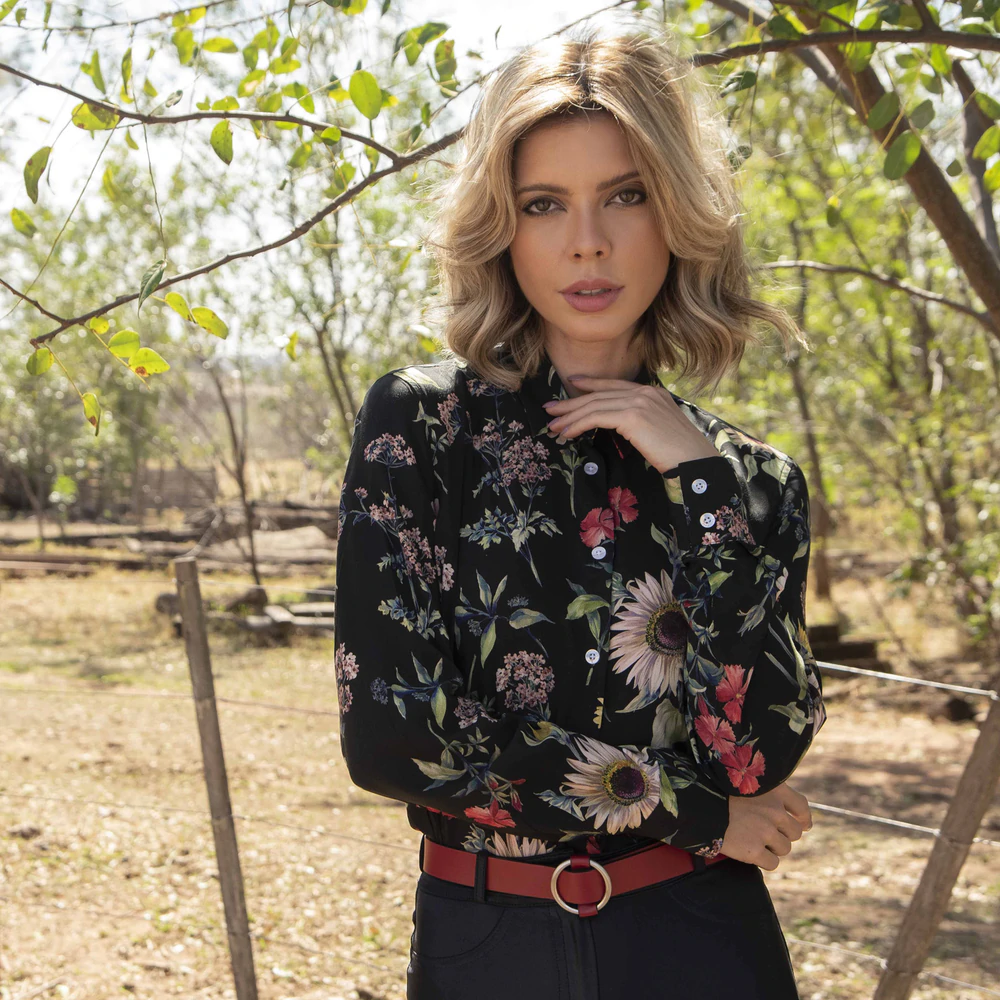 Autumn
Autumn is the time when the weather starts to get a bit chilly. This is when you should start to consider adding layers to keep you warm. Maybe bring out the skirt with thicker fabrics like rayon, cotton and leather.
For a formal look, wearing a matching midi skirt set is an effortless way to look stylish. It can be of the same fabric or pattern. It is okay to wear a print on print, that is to pair a printed midi skirt with a similar print blouse for a colourful and chic look. Add a leather jacket to break the print and add layers. Complete the look with a slouch or ankle-length boots.
Wearing a silk scarf around your neck will not only keep you toasty and also adds that little bit of chic. A uniquely printed silk scarf stands out on your outfit, and delivers in the colour stakes. For a slightly more formal look, pair a midi skirt with a turtleneck sweater. Accessorise with your favourite necklace or statement earrings.
Another great way to style a midi skirt for Autumn would be to wear it with a sweatshirt or oversized knitted sweaters. Tuck it in the middle and keep it loose on the sides for a laid back yet polished look.
Pinched at the waist with a small belt, helps ensure that the figure is still visible under the thicker fabrics.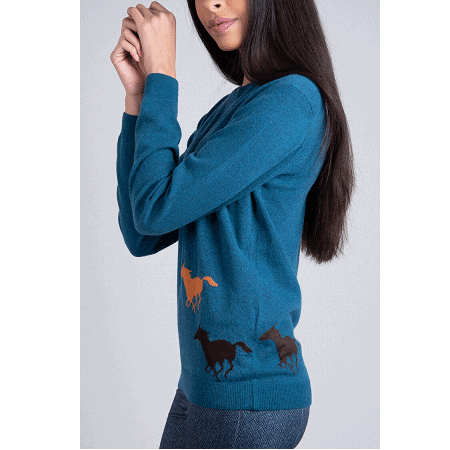 Winter
Now really is the time to bring out your leather and wool midi skirts. Up your winter fashion game by styling your midi skirt with blazers and stockings. These two winter essentials keep you looking stylish and also do the essential job of keeping you warm.
Pairing a blazer or a wool jacket with a skirt is easy if done with a bit of dazzle, and looks gorgeous, despite being a winter outfit. Opt for a crop lens blazer. If you wish to wear a long blazer, add a chunky belt on top for an edgy high-fashion look.
Winter is a great time to wear leather on leather with bold colours. Coordinated sets are an effortless way to keep looking stylish and elegant.
There is nothing wrong with seamless grey or black stockings but Including printed stockings adds a nice twist to your outfit. You can pair stockings with bold prints and colours with plain skirts. Complete the look with slim short heels or mules.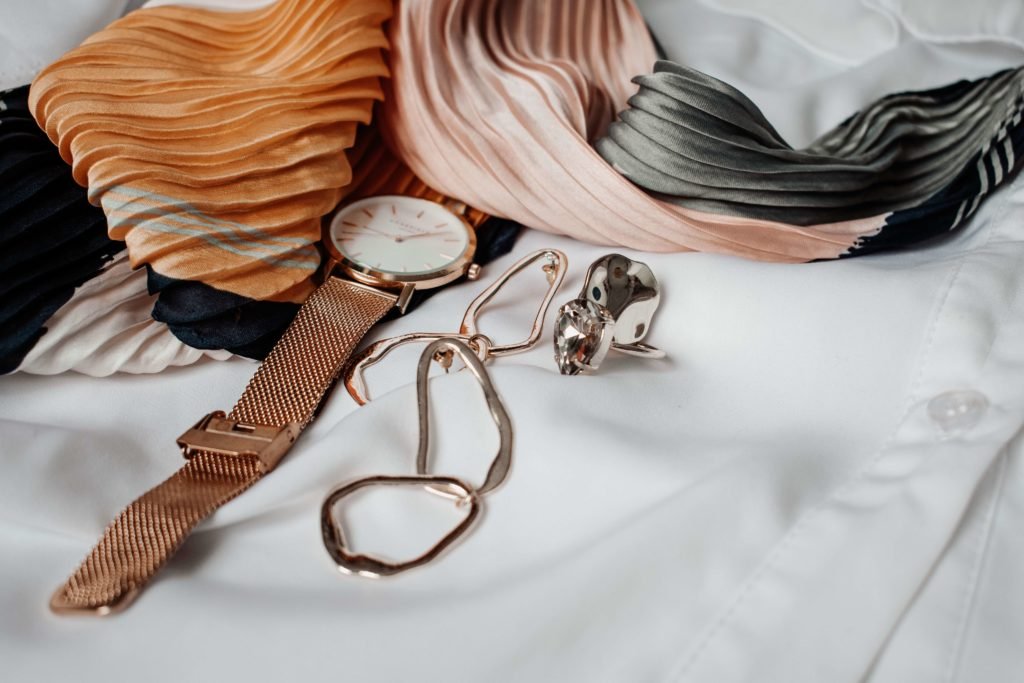 Accessories
Adding a few accessories always does wonders to a plainer outfit. Accessories like bags, jewellery, silk scarves or even a hat, not only elevate the look, but showcase your particular style. A Midi skirt and a belt bag are a match made in heaven. It is a functional way to accentuate the waist and look fashionable.
You can dress your outfit up or down just as easily with your favourite jewellery. If you are looking to accessorise a midi skirt and a shirt, top earrings and hoop earrings are the perfect fit. Why not also add a delicate choker necklace or tie a silk scarf around your neck for a more refined look, that also reminds us a little of days gone by.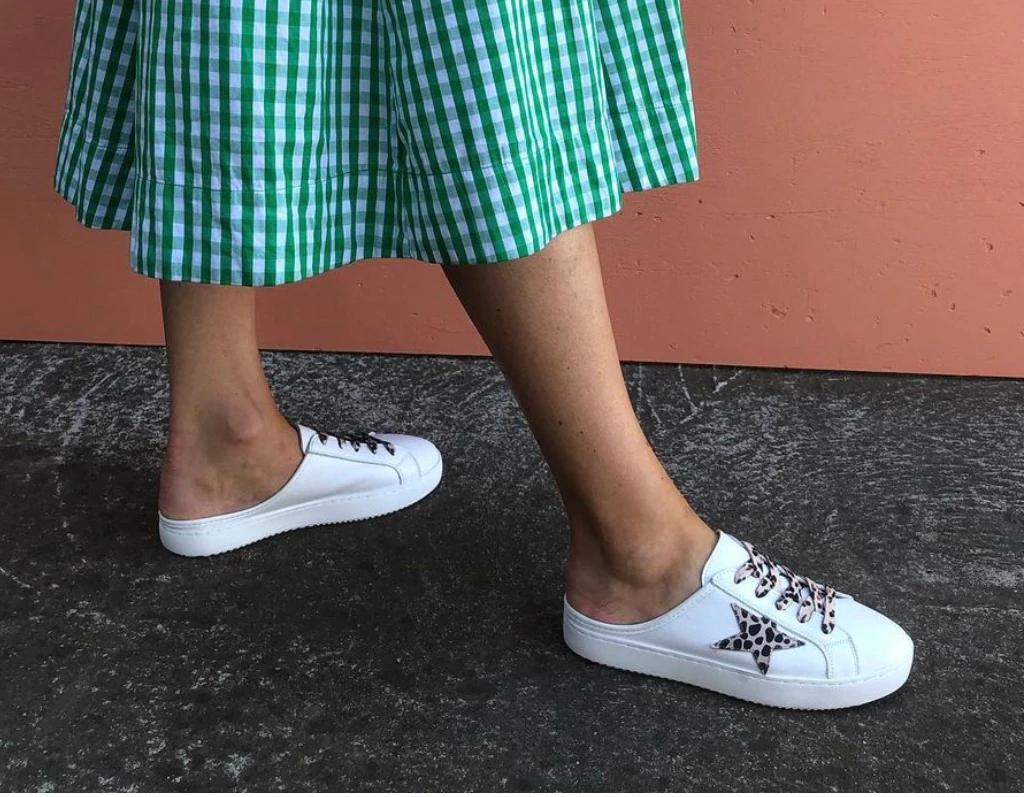 Footwear
Pairing a midi skirt with the right footwear is a great way to add texture and colour. You can play around with different styles and shapes. For winter and autumn, boots add an edgy look with minimum effort. Slouchy long boots and fitted ankle-length boots are comfortable and elegant choices.
You can create that catwalk look by adding bold coloured boots or even printed boots.
Boots are not your only option for styling a midi skirt. For spring and summer, go for bright and colourful ankle strap sandals. These are comfortable and look great too. A pair of white trainers are perfect to create an informal look, or if comfort is paramount.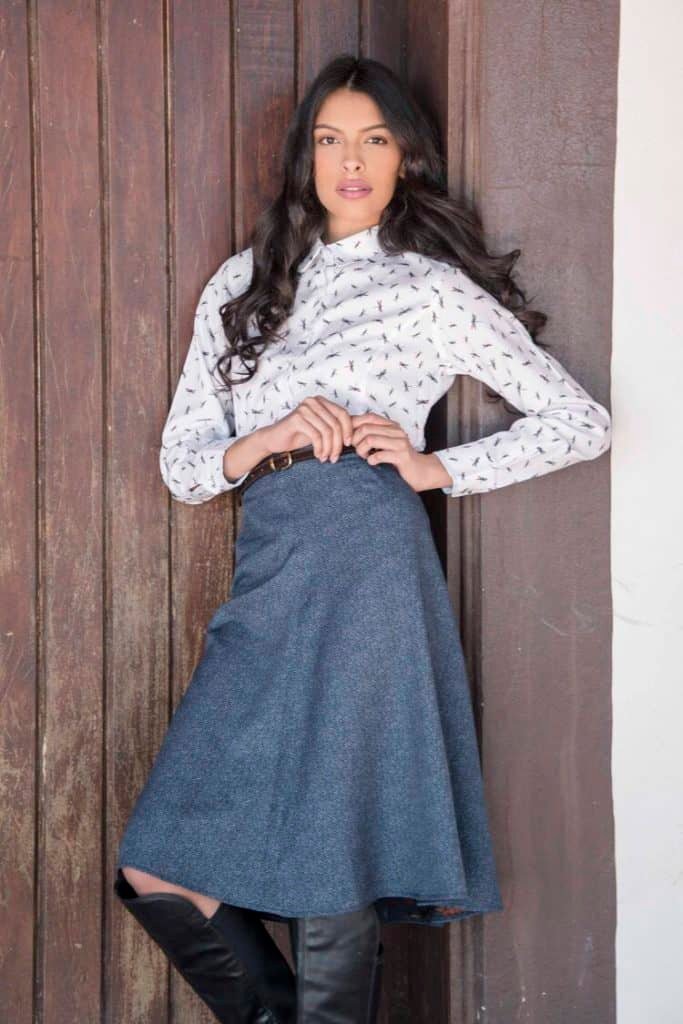 The Wrap
Midi skirts are not going anywhere. They have been a favourite choice for a fashionable wardrobe for decades and are here to stay. If you wish to add something new to your wardrobe, check out the latest Hartwell collection.
You can get creative and experiment with different styles with minimal effort. Dress it up or down as much or as little as your creativity inspires you.
Have fun styling!
Live well, dress well, Hartwell.