Hartwell Clothing are excited to take a look into the crystal ball of Autumn fashion trends for 2022
It's easy to get excited about Ladies Autumn fashion trends for 2022 and the new season is almost upon us. However, a word to the wise, when it comes to investing in style to update your wardrobe, think about what trends will suit you and work with your existing wardrobe and styling, before you dive in with those exciting new purchases.
Creating a wardrobe is about flexibility and garments that are "multi occasion" like country style tops that look great in the countryside, towns or city and work with Brunch, lunch and dinner settings.
And this autumn, the countryside and natures colours are back.
Autumn 2022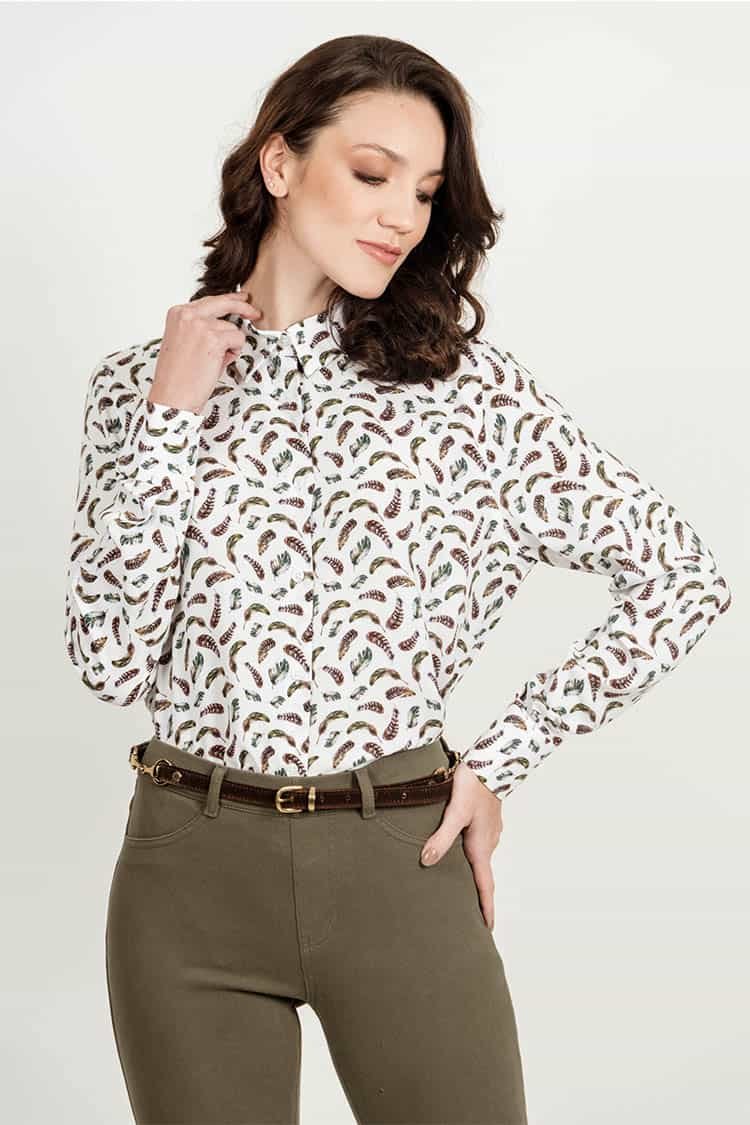 As the seasons change, we can finally go back to our beloved Autumn must haves. Lightweight jackets, knitwear, ladies shirts, trousers, long-sleeved tops and dresses. Every mobile device these days is blessed with an informative weather app, but how accurate are they?
The Autumn fashion look is always about staying comfortable, but warm when you need to. Work with layers and finish off with a pair of boots or stout waterproof shoes.
Fashion gurus are predicting that the mood of autumn/winter 2022's fashion trends can be summed up with the words nature and nostalgia. Now, nostalgia comes in many different forms depending on your age, experiences and interests. Whatever you might associate with happier, simpler times has likely been showcased on the catwalks, for the upcoming season because the creative collectives in New York, London, Milan and Paris have all been feeling that nostalgic desire.
Despite today's technical innovations, more and more people are viewing nostalgia as associated with a better life.
Designers have supported that Autumn collections will see our connection to nature and the world around us widely reinvigorated. During the pandemic, or post pandemic, people started to run through what they missed most, after so long trapped indoors.
Many of us realised how much the power of nature and our beautiful British countryside has the ability to uplift and revitalise us. Colour-wise we are throwing open the doors and windows and inviting every shade of nature in for tea.'
The stunning range of nature and countryside themed ladies country shirts from Hartwell Clothing, will be popular throughout the Autumn and into winter, as it's a wardrobe item for all occasions.
As we roll into the winter months, there's a surprisingly humble item that will be on the majority of fashion people's wish lists. Fashion retail outlets are reporting that plain(ish) white vests are trending in high-fashion circles. Other subtle riffs on minimalism are on offer as well and neutral colours are plentiful for those who want them.
Autumn Weather
After what has been an unbelievably and for some a worryingly hot summer, many of us are starting to admit that (brace yourselves, sun worshippers) we're actually very ready for autumn.
This might explain how lighter garments are now being looked at as "Autumn suitable", maybe everyone is expecting a very mild season and looking at global warming effects, where a vest top under a ladies shirt or stylish premium quality dress is going to be enough.
One item that is always an Autumnal winner are leggings and of course the nostalgia of tights.
A good set of leggings in your weekend back can double as smart evening with a jacket, or as day casual with a ladies top or shirt, for those autumn morning walks or maybe a warm afternoon for a riverside pub lunch
Autumn colours are a joy to behold whatever you're doing.
Tights in winter are often more of a necessity than a considered aesthetic decision, but we'd hazard a guess that almost every pair you own is black. Sure, some might be patterned, but very few of us experiment when it comes to the colour spectrum. Next season, however, things get a whole lot more angelic, with light – often white – tights coming to the forefront.
Pair them with a beautiful country themed dress or with a ladies country shirt and some shorts, to still feel summery in Autumn, while bringing that wonderful countryside into your wardrobe.
Lots of talking points at the fashion shows, with topics ranging from gender fluidity, sex appeal, body positivity, as our industry embraces changes in thinking. Are suits heading out-of-office? will offices be seeing a surge in luxurious velvets, bold prints, and colours that make you want to jump for joy?
Knitwear is everywhere, and paired with everything, but will autumn season temperatures warrant knitwear or is layering the way to go.
Hartwell Clothing with our countryside background are firm believers in layering and we produce garments that are multi functional to lighten the travelling load and highlight that quality always looks good.
To close
The biggest fashion trend of the autumn/winter 2022 collections is the return of beautifully made quality clothes you can wear any time and any place, and the move away from throw away items, that have caused the fashion industry to have such a negative environmental impact in the past.
Whether you feel like showing off or not, these are clothes for going places. Savour that freedom.
"If you really love a trend but don't think it'll work for you, don't be afraid to experiment with tweaks such as the length of an item's hem or sleeves or drawing in the waist with a well placed belt in order to make it work for you.
"And finally, have fun! Fashion is supposed to be joyous and at last we can dress up in our favourite outfits with somewhere to go other than the living room!
Live well, dress well, Hartwell.