As the end of 2022 approaches the fashion world has already started to set its stall out for 2023.
Our business is constantly evolving and as each collection is launched new ideas emerge and boundaries are pushed. At Hartwell Clothing, we don't just follow a trend, and our clever designers have their own ideas, but we look at what's new and see if there is scope to adapt our range to keep things fresh and vibrant.
We were absolutely delighted with the response to our Autumn/Winter 2022 collection, and are already excited about 2023.
So today we take a look at what the fashion world believes we will be wearing and the "in colours" for ladies and mens fashion.
With the month-long series of fashion shows across New York, London, Paris and Milan now over, it's exciting times as we digest the next series of trends. All designers watch the shows carefully to see which fashion trends the industry is likely to be celebrating, however designers aren't governed by anything, and Hartwells range is also about practicality and being able to wear our garments for a day in the field or at the gymkhana.
The biggest fashion colour trend in 2022 was Lilac and judging by the catwalks purple tones across the spectrum are here to stay. We are already at the forefront of this with our stunningly beautiful Lisa white bird flowers blouse with a removable bow, which offers soft lilac and purple in the print.
The second noticeable trend from many shows is in bold, bright florals and lots of statement blooms on show.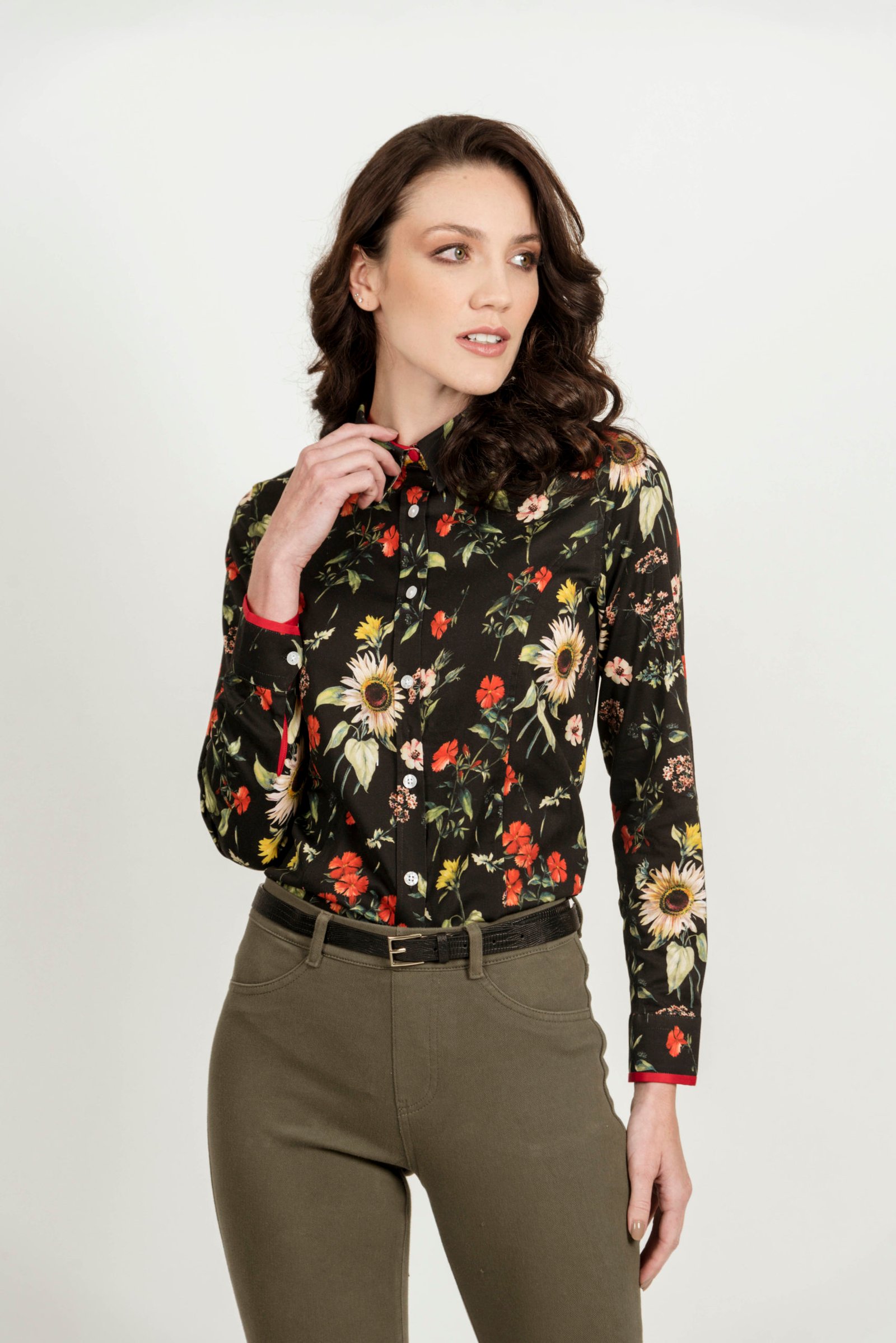 The Hartwell Layla Black Flowers luxury cotton satin shirt with lycra, will have you vying with the catwalk sensations while staying practical and looking equally stunning with our exclusive floral print. A printed blouse will always add an instant uplift to everyday basics, bringing classic jackets and tailored trousers into the new season. Our Lydia Black Flowers Ladies Shirt is a perfect example of how to do high fashion, but with a wearable look that's great for the country or in town.
Other colours making lots of bold statements will be Sundial and Lucious reds, Lazuli Blue, jade and Honeycomb, all beautiful in their own right, but sometimes subtle is just as much of a statement.
Which ladies clothes will be trending in 2023
Naturally the trends and final garments in the high street are not always reflective of the major fashion houses' wild designs and flamboyance at the world's fashion shows. Most ladies have to look and think about actually wearing the garments they buy on more than one occasion and in their daily lives.
After all it's not easy doing the supermarket run or loading hay bales, with three feet of feathered headdress and an eight foot lace train!
But we can still hit those catwalk colour trends.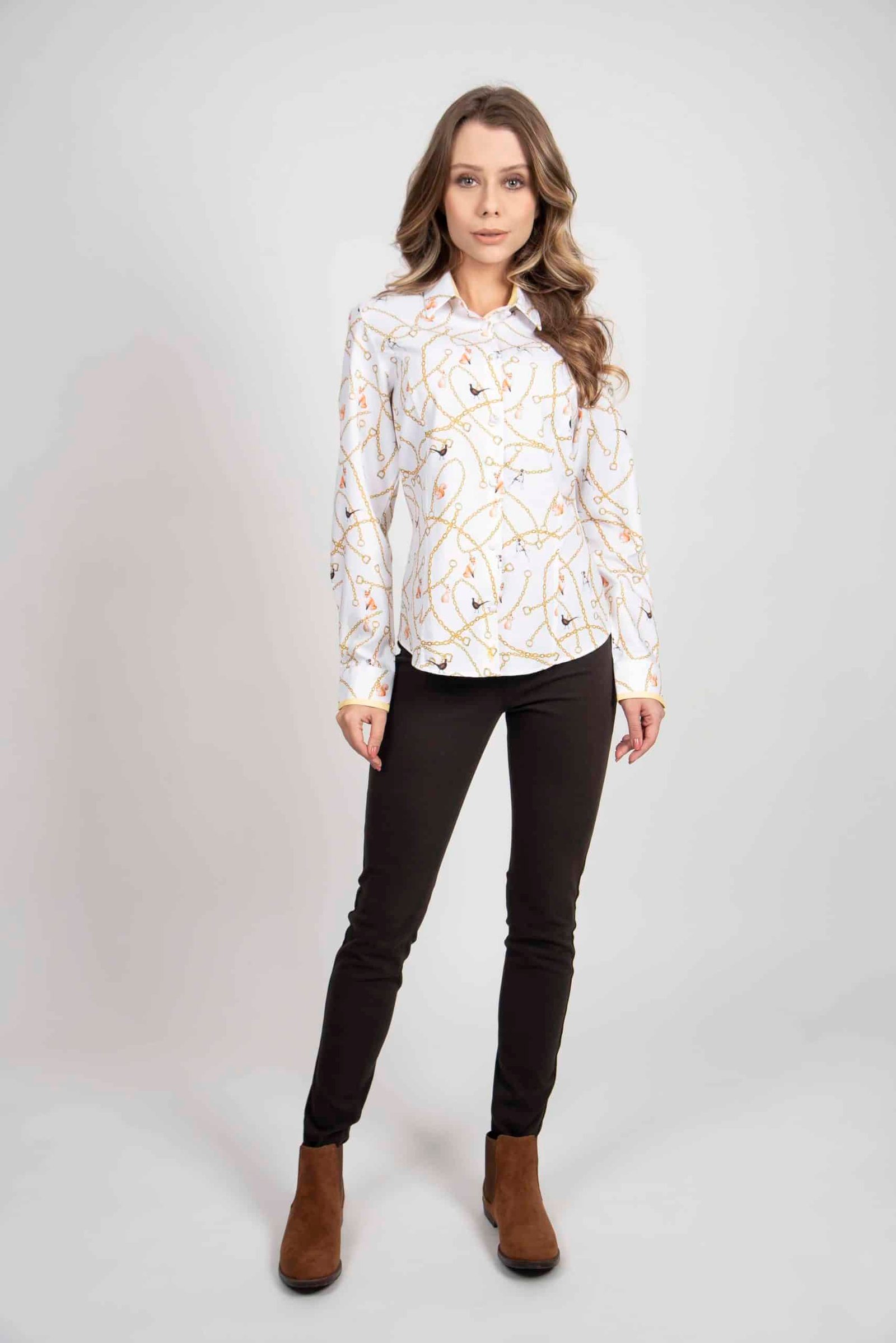 Ladies shirts are definitely in and if you want a colour somewhat akin to Sundial then Hartwells Zoe Gold Chains luxury Oxford Cotton shirt, beautifully captures the delicate glow of spun gold, and works well with jeans (more on jeans further down the blog).
Floral dresses have never gone out of fashion and are always a safe purchase, and a go to staple. During the summer they will cover you for a host of summer occasions, meaning you can avoid those 'nothing to wear moments'.
With bold accessories coming back, wide belts and a shoulder bag with the strap in one of the seasons "in colours" you are practical, fashionable and beautiful at the same time.
A perfect example is Hartwells Sophie Silk Ditsy Dress, with a pretty floral ditsy print, our popular Sophie style is now available in a limited-edition special luxury silk-touch fabric. If you want to tan the legs then take a look at the modestly shorter Sophie ditsy red dress, which is perfect for countryside events where the odd sty or errant fallen tree might need to be overcome. 
Let's talk about jeans and trousers. At almost every show, trousers were also everywhere, which was great to see the fashion houses make moves to serve up fashion that fits in with real world everyday life.
What makes the perfect pair of women's trousers? At Hartwell we truly believe that it is all down to the cut, the tailoring and the choice and quality of fabric. When these come together in the right mix they really flatter.
Hartwell Clothing are beyond excited to be introducing our brand new range of beautifully cut trousers that have been carefully designed to flatter the female form, with soft lightweight cotton giving plenty of stretch to allow ease of movement. Our 5 pocket cotton jeans come in Navy, Beige and White, and in sizes 8-18.
Hartwell's needlecord jeans will be available in Black, Navy and Green Olive, with super soft moleskin initially being available in Green Olive.
All our trousers are cut perfectly and made from the finest cotton with 2% lycra for maximum comfort and a flattering fit.
Which mens clothes will be trending in 2023
Bright colours are a must for 2023 as seems to be a return to nostalgia. Now that might seem a contradiction as nostalgic colours for men have been black, blues and greys, but not any more
Suits are back (did they ever go away) and with bold shirts underneath, accessories and colured boots or shoes, they are taking on a whole new look.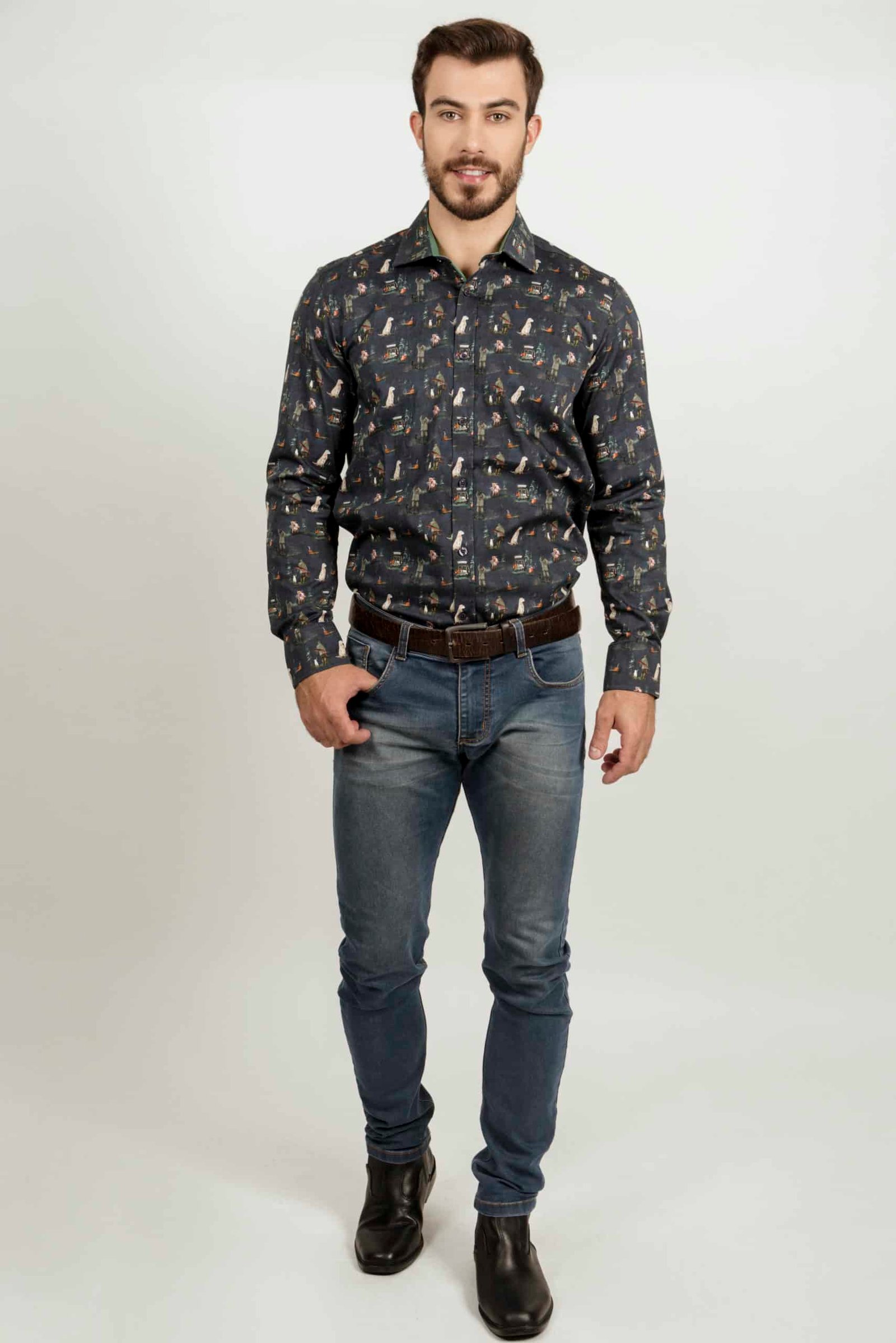 With the trends announced, it's obvious that the Hartwell mens collection and the planned range expansion are already winners.
Printed shirts were once a hugely popular choice, harking back to the days of Hawaiian shirts in the '30s. These bold shirts are a great way to enhance a typical outfit, with a simple pair of jeans or trousers. Depending on the aesthetic you prefer, you can opt for a classic style or something a bit more graphic.
The Victor Pheasant Friends luxury men's shirt is the perfect accompaniment for jeans or trousers. For styling a simple suit, adding one of Hartwells bold print shirts like the Victor Navy Hunting luxury men's shirt, beautifully depicting hunting scenes with dogs, pheasants, guns and vehicles on a navy cotton satin lycra fabric it will deliver style and fashion in a single swoop under a classic suit with and additional splash of colour from your belt, shoes or hat.
The suit is not dead and although some men momentarily traded their suit for cargo shorts and jogging bottoms!This menswear essential is firmly back on the fashion map for 2023, although suits will be more casual than ever with loose, sometimes oversized cuts, which are great for showing off the Hartwell Clothing shirts.
As with Ladies fashion Denim is making an even stronger come-back in 2023 for both spring/summer and already in many lables plans for autumn/winter, almost taking over the entire wardrobe in a wide range of versions, from heavily distressed to smart cut formal. Denim is featured in all types of garments, including coats and boots.
For many countryside folk, denim has never gone away, mainly because of its immense practicality and hard wearing properties, but styling options are plentiful for men, with vivid mens print shirts and an almost rainbow like range of colours in footwear.
We will see a resurgence of Stone-washed and threadbare jeans, not to mention ripped jeans, wonderfully reinterpreted by Japanese label Taakk, which to some amusement mimicked tears by using embroidery.
Fashion Colours for Spring & Summer 2023
For New York fashion week the release of the Pantone colour report saw a few surprises.
According to Pantone Color Institute experts, colours for Spring/Summer 2023 will reflect on how our experience of the past few years has influenced our relationship with colour.
The references are to the pandemic and the ensuing chaos and sense of being trapped that we all felt, to finding our freedom again.
Fiery Red and lush Purples are again strong, and the palette includes Tangelo with its almost vitamin C enriched orange hue.
The move to stronger vibrant colours takes us away from the overwhelming greys, vanillas and more sombre colours.
Hartwell clothings designers have always seen colours as a benchmark of our designs, how else can we reflect the wonderful beauty of the great British countryside in our range, without strong, vibrant colours?
Fashion Colours for Autumn & Winter 2023
Olive greens, Orange Tiger, and Violet are just 3 of the colours for Autumn/Winter 2023 which are to represent our ongoing battles in life between calm and comfort and the need for energy boosting vitality. The entire colour palette is put together to allow you to express who you are and how you may be feeling on any particular day.
A return to some staple Autumnal colours as well such as Cobalt blue which is  a colour that suits almost everyone, being seen as neither warm nor cold. Burgundy is another welcome returnee with its warming,  deep rich tones, and is perfect for winter styling and reflects the Christmas season.
Final Thoughts
Fashion weeks inspire all designers to some degree, but at Hartwell Clothing we know what our lovely clients want, and that looking stylish around the farm or autumn country show is important but practical elements have to be considered.
That's why Hartwell continues to blend country style with a contemporary twist. Each and every Hartwell garment is British designed to look great everyday.
Using only the finest quality fabrics, our unique prints and modern designs are bringing more choice, colour and style to women's and men's country clothing.
Live well, dress well, Hartwell.