Are dresses only for formal occasions and therefore should be accompanied by a pair of heels or sandals or do dresses fit in with everyday life and with those working and living in the countryside? And if they do, that often means wearing them with boots.
The Hartwell clothing gang believe that fashion style is relative to each individual and although the industry often talks in stereotypes, we say "embrace being different.
But does that mean you can comfortably wear boots with dresses and still stay "Hartwell Chic"?
Read on.
Making Style your own with Boots & Dresses
It might sound a little like a well worn phrase, but we all want our wardrobe to work smarter, not harder.
A key shopping strategy is to shop carefully for good quality pieces that complement each other and offer flexibility, no matter what the occasion as far as styling is concerned.
For many ladies who live and work in the countryside, but still have to make trips to the towns and cities,  the dress-and-boots combination is a firm favourite for those that love the pulled-together look that you can assemble with minimal energy.
Wearing jeans and a T-shirt is probably the easiest of outfits but thoughtfully pairing our stunning Hartwell Clothing country styled dresses with good quality boots is equally as easy but feels far more elevated and stylish and many dresses look great with boots.
As the summer months have drawn to a close and Autumnal breezes start to make themselves felt, it can be easy to just throw whatever on to feel warm and cosy. But the right dress with a good pair of stylish boots can make you look and feel glamorous, despite the weather and there are lots of great ways to wear boots with dresses without compromising comfort or style.
The first rule, and it's a hugely popular one, is that, in today's eclectic and diverse society as with much of fashion, there really are no rules. We have left behind us the days of strict dogma that sort to dictate what you can and can't pair and we've moved much more to an age of allowing you to be you.
Today's style gurus wear what they want with what they want and embrace their own sense of style. This is one reason why Hartwell Clothing has grown in popularity as our contemporary countrywear challenges and embraces traditions at the same time.
Many ladies living and working in the Great British countryside, believe that dresses are an absolutely timeless wardrobe investment for year round versatility and can be paired with all sorts of accessories for all sorts of occasions, and that includes wearing them with boots.
If you really want to show off your glamorous side our favourite dress for an evening out with boots is Hartwells Claudia Black Knitted Dress.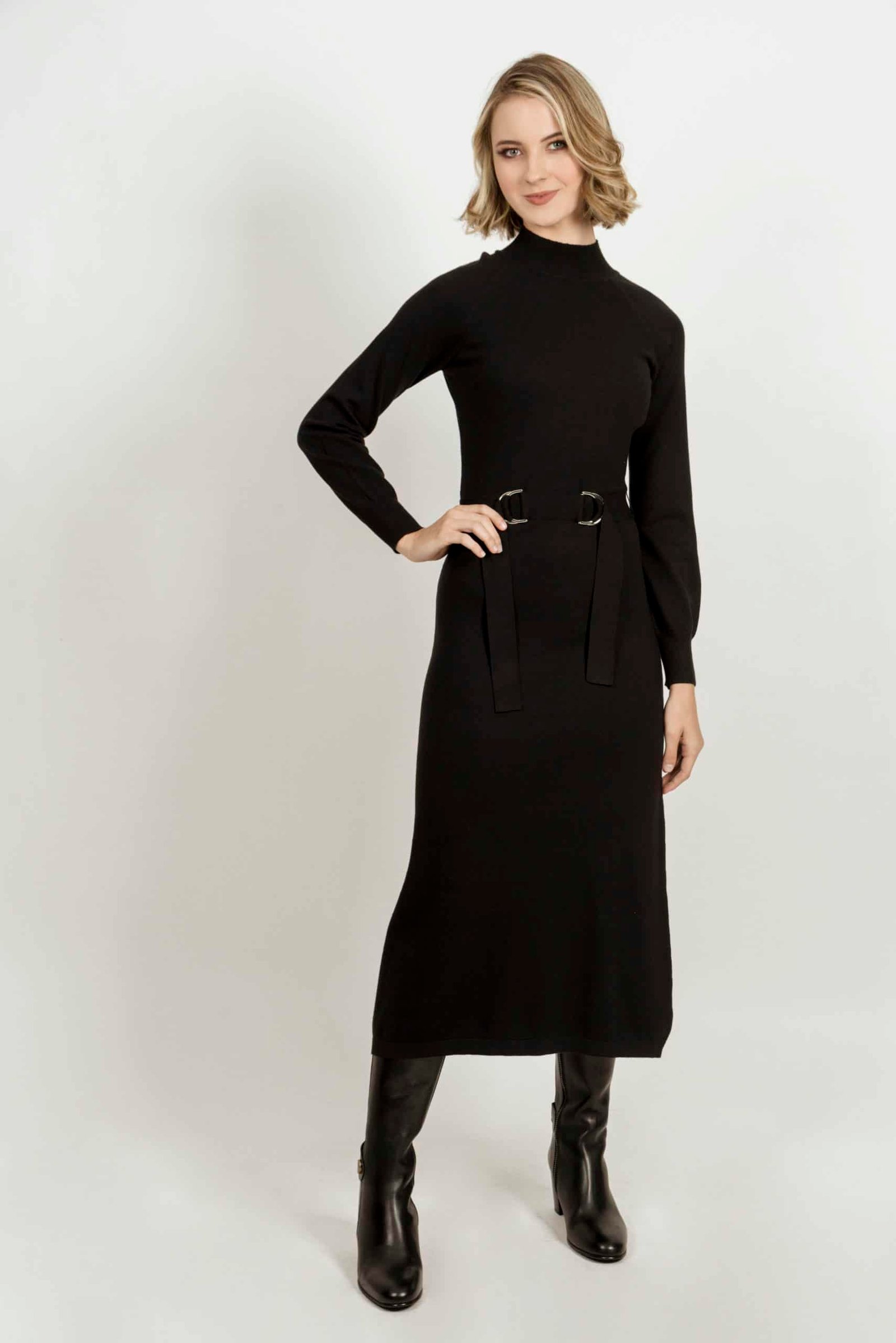 This stunning beautiful dress with its longer length and elegant style makes everyone who wears it feel special. With a black belt and metal buckle feature, it looks great with leather boots and has a traditional Empire waistline for a fabulous body shape.
Keeping your boots plain or single coloured means the patterns and colours of your dress will really stand out and highlight the dress with the boots being an accompaniment.
Great examples of quality dresses to wear with single coloured ankle boots are firstly the vibrant knee length Ruby Red Bandana dress from Hartwell Clothing.
This cute red bandana print with wonderful coloured, pretty daisies is a real treat to wear. Manufactured in soft luxury fabric (100% Viscose) its long sleeves will help ward off the evening chill, as will the beautiful classic frilled collar.
Great with either ankle or knee length boots are our beautifully cut Sophie Foliage Pheasants dress and the flattering v neck, Sally Ditsy Brown Dress.
The Sophie Foliage Pheasants dress features a wonderful colourful pheasant print against subtle grey foliage and made from a soft viscose fabric.
The pheasant is always a popular print on Hartwell's Clothing and with its full length sleeve, matching shirt collar and mother of pearl buttons, it is perfect for walking, shopping in the towns or making the stable rounds.
For occasions a little more formal and a dress that looks beautiful with a wide range of boots, Hartwells Sally Ditsy Print Dress is another eye-catching wardrobe staple that combines well with boots, and works for brunch, lunch, dinner and the farm office.
Our creation sports a flattering v neck with small shirt collar, cover buttons and long puff sleeves and a vibrant pretty floral ditsy print on a brown soft viscose fabric, with black piping around the neck.
Mid heeled ankle boots or high soled walking boots look great with this dress, and we have seen riding boots worn on several occasions with The Sally and the combination works really well.
The trick is to not allow the boots to take over the outfit or to look out of place.
For many ladies, their favourite well worn boots hold a certain special place in their hearts. Whether it's the cosy feeling they give your tootsies or just the way their boots look. Most countryside folk love their boots.
These are just a few examples of the stunning dresses in the Hartwell Clothing collection which will work with boots and give your wardrobe a quality feel. Our brilliant designers make sure that our clothes celebrate the countryside and country life, while ensuring you look glamorous and chic.
Everything you need from a contemporary country clothing brand in one place
Wrap up with a new look
Wearing boots with dresses during the autumn and winter is an easy way to stay warm while looking incredibly chic.
And when it comes to Boots we are happy to recommend that you take a look at the huge range of beautifully designed, high quality ladies boots from our friends at Fairfax & Favor.
You will find they are a perfect combination when matched with garments from Hartwell Country Clothing.
Many ladies love to wear boots with a dress, but we know it may be new to some of you. Sometimes it's exciting straying away from your normal fashion style.
So, we hope you have enjoyed this blog on a few simple ways to wear boots with a dress that will have you feeling stylish, confident, and warm as the summer comes to an end.
Live well, dress well, Hartwell.