The Lake District… and other magical UK places
We're lucky that everyday our work allows us to embrace nature and its fabulous array of colours, textures and natural beauty.
It's a constant reminder that we are blessed with such a rich countryside in the UK with awesome seasons and a myriad of changing colours. We would like to celebrate some of the UK's magical countryside locations that can be enjoyed right on our doorstep. Do let us know which other spots you'd want to add to this list!
The Lake District
This stunning national park in Cumbria stretches across the county for over 900 square miles, and is blessed with such variety. Rivers and lakes with bountiful wildlife, a coastline that can be wild or serene and jaw-dropping mountains, challenging the hardiest walkers.
It is so uplifting that Beatrix Potter developed a deep love of the area, inspiring many of her much loved country tales and the region has long been a choice for poets and writers to enhance their creativity.
A beautiful tribute was written in 1802 by William Wordsworth's sister Dorothy who wrote "A breathless, grey day that leaves the golden woods of autumn quiet in their tranquillity, stately and beautiful in their decaying"
So dress for all weathers and enjoy the crisp air and the riot of scenery and colours.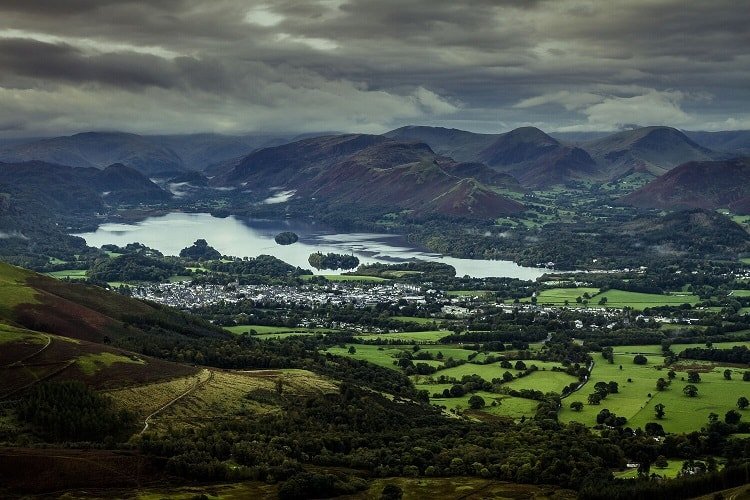 The Cotswolds
Serene gentle beauty with postcard chocolate-box cottages and gardens can all be enjoyed with a countryside walk through The Cotswolds. National trails stretch for hundreds of miles and offer panoramic views and quiet lanes filled with wildflowers and pasture. The Cotswolds are a true taste of quintessential England. Off the trails you will discover quaint villages and towns with cobbled high streets and historic old coaching inns.
Rest and refuel before returning to the undulating countryside, enjoying sunken valleys, streams, hills and an array of nature's finest seasonal beauty. Cotswold walks leave you feeling invigorated and charmed by the countryside culture and way of life.
The Yorkshire Moors
Anyone who categorises the Moors as a barren windswept environment has clearly never walked them or has lost their love for the British countryside.
With over 550 square miles of forests, farmland, moorlands and stunning coastline (a little windswept) is still one of Britain's favourite National Parks and offers an array of attractions for outdoor lovers.
Ever popular with families is the North York Moors Steam railway, which offers amazing photo opportunities as you chug across the heather clad countryside and stop at traditional country villages before arriving at Whitby, where a bracing walk along the coastline and beach is a perfect prelude to enjoying local fish and chips. True countryside beauty and a rambler's delight mixed with tales of enterprising smugglers and shipwrecks.

Sherwood Forest
This centuries-old historic and iconic woodland in the heart of England holds a truly legendary status. The legacy continues to grow and the tales of medieval heroes and villains capture the imagination as you stroll through breathtaking forest and imagine green clad men of Sherwood living in the trees.
Aside from the legends Sherwood offers a dazzling array of flora and fauna as well as being home to hundreds of species of mammals, birds and insects
As a National Park Reserve the magnificent trees are protected and include ancient oaks dating back over 500 years, with the fabled "Major Oak" being over 1000 years old. True British countryside and nature's splendour await the thousands of visitors every year.
The Wrap
We could write so much more about Britain's countryside and places we recommend you visit, but we hope this brief list whet your appetite. Do let us know your favourite UK locations – they are certainly best when shared!
We have to get back to the design studio and workshop but do feel free to take a look at our range of ladies country shirts which will tie in very nicely with whatever country walk you are planning.
Enjoying nature's splendour, whether you are walking, fishing or shooting, is a natural gift to us all.
Live well, Dress well.
Hartwell
x